Top 50 Sitcom Characters of All-Time
by Michael Dell, Editor-in-Chief


This past week, The Hockey News, in all its journalistic brilliance, published what they called "The Definitive List of the Top 50 NHL Players of All-Time." I for one am just overjoyed that they produced such a "definitive list", saving all of us mere mortals the grief of trying to formulate our own opinions and beliefs. Thank you, Hockey News!

While we couldn't agree with The Hockey News' list, we also couldn't help but notice all the media attention they were getting for some overblown opinion piece. Here at LCS, we may not be that bright, but we seldom miss an opportunity to get our names in the papers. Whether it's the front page of the local section or the police blotter, we're what you'd call "media savvy". So we thought, what the hell? We can compile a list our own damn selves and cash in on some of the senseless media hype.

With that in mind, it gives us great pleasure to present the definitive list of the top 50 sitcom characters of all-time! Some choices are obvious, others quite obscure. But they're all LCS. And after all, this is the definitive list. Enjoy.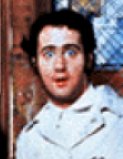 Latka Gravas
1. Latka Gravas, "Taxi": It was a tough call, but in the end Latka won out due to his bout with multiple personalities. Watching the shy foreign garage mechanic become playboy Vic Ferrari, or Arlo the cowboy, or even his good buddy Alex Rieger, was enough to carry Latka to the top. Thank you very much. In fact, the episode where Latka first transforms into Vic Ferrari, entitled "Latka the Playboy", remains the single greatest episode in television history.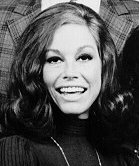 Mary Richards
2. Maynard G. Krebs, "Dobie Gillis": The role model for all LCS staff members, Maynard was the beatnik with, like, the most, dad. When he wasn't listening to Thelonious Monk or watching "The Monster that Devoured Cleveland", Maynard was doing his best to avoid work... WORK!?!
3. Mary Richards, "The Mary Tyler Moore Show": Mary was just so... so... Mary. I'm not sure if she could turn the world on with a smile or not, but she could sure as hell turn me on...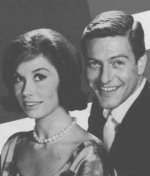 Rob and Laura Petrie
4. Rob Petrie, "The Dick Van Dyke Show": The creative force behind "The Alan Brady Show", Rob was a true comedic genius. Plus, he was married to Mary Tyler Moore.
5. Laura Petrie, "The Dick Van Dyke Show": A young Mary Tyler Moore... grrrrrowl.
6. Barney Fife, "The Andy Griffith Show": Barney made the streets of Mayberry safe while making us all laugh with his wacky law-enforcement antics. If there was ever a problem, he was sure to nip it in the bud.

Barney Fife
7. Larry Appleton, "Perfect Strangers": Cousin Larry was always trying to be something he wasn't, getting caught up in lies and exotic schemes to impress his girlfriend Jennifer and anyone else paying attention. But in the end, just being Larry was always more than enough. He was a master of physical comedy and the king of alliteration-filled dialogue. Whatever the situation, Larry always had a plan.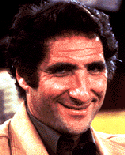 Alex Rieger
8. Ted Baxter, "The Mary Tyler Moore Show": It all started in a 5,000-watt radio station in Fresno, California. With just a $50-a-week paycheck and a dream.
9. Alex Rieger, "Taxi": There were a lot of great characters at the Sunshine Cab Company, but it all started with Rieger. He was the foundation on which the great ensemble cast was built.
10. Maxwell Smart, "Get Smart": Agent 86 was a lock for the top ten. But the top spot overall? Well, let's just say he missed it by that much.
11. Elliot Carlin, "The Bob Newhart Show": Mr. Carlin can teach us all a little something about being an abrasive, sarcastic, smart-ass. And for that, I am thankful.
12. Louie De Palma, "Taxi": The gruff dispatcher gave all the cabbies hell, but he was truly one of a kind. There aren't many characters in the history of television that showed as much depth and sincerity as Louie.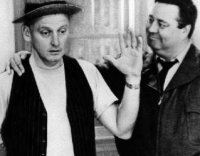 Ralph Kramden and Ed Norton
13. Ralph Kramden, "The Honeymooners": Ralph was one of television's first superstars. The bus-driving everyman had a universal appeal. No matter how hard he strived to better himself, Ralph just never seemed to get ahead. But the more he failed, the more we loved 'im.
14. Ed Norton, "The Honeymooners": Ed was Ralph's true blue pal and set the stage for just about every buddy team to follow. The world's most famous "sanitation engineer", Norton always tagged along with Ralph's schemes but never failed to bring the comedy.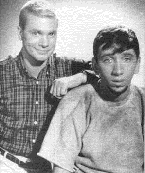 Dobie and Maynard
15. Dobie Gillis, "Dobie Gillis": Dobie was all about impressing the ladies. It was his only goal in life. Which made him the perfect buddy for Maynard G. Krebs, someone who had no goals whatsoever.
16. ALF, "ALF": ALF only number 16? No problem!
17. Vinnie Barbarino, "Welcome Back, Kotter": What? You don't think Vinnie belongs this high? Up your nose with a rubber hose!
18. J.J. Evans, Jr., "Good Times": There's nothing to fear, because J.J. is here. Everything will be all right, so says Kid Dy-NO-mite! J.J. was the man. The episode where he had to paint a picture of a naked lady is an all-time classic.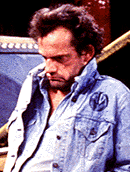 Jim Ignatowski
19. Jim Ignatowski, "Taxi": Taxi's dominance of the countdown continues with Reverend Jim. There was much more to the drugged-out stoner than met the eye. Which pretty much was a mark of all the great Taxi characters.
20. Barth Gimble, "Fernwood 2-night": While technically a talk show parody and not a sitcom, Fernwood 2-night's host is just too damn cool to be left out. Martin Mull made this Johnny Carson wanna-be a legend around the talk show circuit. If you've never seen Fernwood 2-night, do so immediately.
21. Corporal Randolph Agarn, "F-Troop": Bouncing from one get-rich-quick scheme to the next with his buddy Sgt. Morgan O'Rourke, Agarn was always looking for a way to beat the system. He also wore red thermals that were bad as hell.
22. Mr. Ed, "Mr. Ed": He was a talking horse that could drive cars, fly airplanes, and surf! 'Nuff said.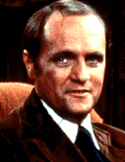 Bob Hartley
23. Bob Hartley, "The Bob Newhart Show": Bob Newhart's brilliant timing and gift for understatement made it a joy to watch Dr. Robert Hartley try and deal with the zaniness around him.
24. Lou Grant, "The Mary Tyler Moore Show": Lou is a two-fisted drinker and the ultimate newsman. And he hates spunk...
25. Danny Partridge, "The Partridge Family": Another pioneer in the field of get-rich-quick schemes, on the side Danny was one mean bass player. The time he and the family played a gig in Harlem was inspired. Watching Danny walk down the street with his Black Panther-esque pals was pure bliss.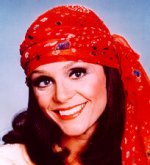 Rhoda Morgenstern
26. Rhoda Morgenstern, "The Mary Tyler Moore Show" and "Rhoda": Rhoda started out as Mary's wise-cracking neighbor and soon became a cultural icon due to her hip sense of style. She made it cool for chicks to dress like pirates.
27. Sam Malone, "Cheers": The former Red Sox relief pitcher made Cheers one of the all-time greats. He was the ladies man Dobie Gillis always wanted to be, and then some.
28. Howard Borden, "The Bob Newhart Show": Howard was the original wacky nextdoor neighbor. Constantly borrowing things, seldom knocking, and always inviting himself to dinner, Howard was the forefather of the modern day Kramer.
29. Herman Munster, "The Munsters": Good ol' Herman was somethin' special. Not only was he the patriarch of one of television's great families, at one time or another he became a drag racer, a wrestler, a pop singing sensation, and just about everything else in the book. And he did it all wearin' some kick-ass platform shoes and bolts in his neck.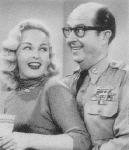 Sgt. Bilko
30. Sgt. Bilko, "The Phil Silvers Show": Bilko was the ultimate work-slacking con man and the frontrunner for guys like Agarn, O'Rourke, and well, LCS. He always found a way to make the most profit with the least work.
31. Fred Sanford, "Sanford and Son": This ol' junkyard dog had to make the list, fool!
32. Balki Bartokomous, "Perfect Strangers": The naive sheepherder from Mypos teamed with his Cousin Larry to create one of the best duos in history. Was there ever a chance Balki would miss our list? Of course not, don't be ridiculous...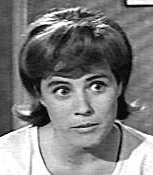 Patty Lane
33. Patty Lane, "The Patty Duke Show": Of the two identical cousins, Patty was the wild and crazy one. She gets the edge over Cathy simply because, well, "a hot dog makes her loose control."
34. Dick Louden, "Newhart": Owner of a Vermont inn, writer of how-to books, the host of his own local TV show... Dick Louden was a man of many talents. The best of which was still a classic comedic delivery.
35. Arnold Jackson, "Diff'rent Strokes": If based solely on his early work, Arnold would be top ten material. However, the longer the show ran, the more tarnished his image became. But we'll always try to remember him as the scrappy little orphan fresh from Harlem.
36. Homer Simpson, "The Simpsons": Sure, he's a cartoon, but he still counts. Homer was pretty brutal in the show's first season, but since then he's become everyone's favorite dim-witted goofball.
37. Gilligan, "Gilligan's Island": Everyone's little buddy, Gilligan made his exploits with his fellow castaways a staple of American culture.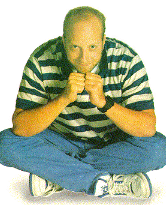 Chris Peterson
38. Chris Peterson, "Get A Life": Often overlooked, Chris Elliot's portrayal of the 30-year-old paper boy living over his parents' garage is an everlasting monument to comedy. Sure, the second season when he moved out on his own was pretty lame at times, but the first year was golden.
39. Dr. Johnny Fever, "WKRP in Cincinnati": Once fired from a radio station for saying the word "booger" on the air, a down-and-out John Caravella joined up with a floundering station in Cincinnati. When the station switched to a rock 'n' roll format, he was reborn as Dr. Johnny Fever and the face of radio on television was changed forever.
40. George Jefferson, "The Jeffersons": A self-made man, George used his chain of dry cleaners to move out from Archie Bunker's shadow and into a deluxe apartment in the sky.
41. Conrad Siegfried, "Get Smart": Maxwell Smart's archenemy, any episode with Siegfried in it is one for the ages.
42. Kirk Morris, "Dear John": Kirk made the one-to-one club for divorcees at Rego Park an event each and every week. A habitual liar always on the make, Kirk was a single woman's worst nightmare but a tremendous boon to comedy.

Juan Epstein
43. Jaun Epstein, "Welcome Back, Kotter": The Sweat Hog voted most likely to take a life, Epstein also owned the wackiest walk in show business. So why is he only number 43? Well, I got a note...
44. Fred Mertz, "I Love Lucy": Lucy always received the accolades, but Fred was the driving force behind perhaps the most famous show in television history. He was a cheap, ornery, ex- vaudevillian with a heart of gold.
45. Mr. Mooney, "The Lucy Show": Mr. Mooney was all about money. As Lucy's banker and employer, he struggled to keep a tight leash on the flighty red-headed spitfire. If you listen closely you can almost still hear him bellowing, "Mrs. Carmichael!"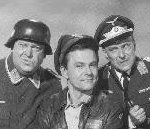 Klink (far right), with
Schultz (far left) and Hogan
46. Colonel Klink, "Hogan's Heroes": Klink was one suave monocle-wearin', prison-camp-runnin' mother.
47. Buddy Sorrell, "The Dick Van Dyke Show": Buddy was a walking joke file. He had one-liners ready for any occasion. Remember that name... Buddy Sorrell... two r's, two l's, too funny for words.

Mr. Furley
48. Mr. Furley, "Three's Company:" Don Knotts in a leisure suit. What more can you ask for?
49. Nick Lobo, "Rhoda": Not many people are familiar with Nick Lobo, and he only appeared in about five episodes of the show, but he was something to behold. The accordion playing boyfriend of Rhoda's younger sister Brenda, Nick was money in the bank whenever he made an appearance.
50. Exidor, "Mork and Mindy": Dressed like a modern day prophet with a Moe haircut, Exidor was one of the first Earthlings to befriend Mork. Anytime the borderline madman made an appearance, he stole the show.