Have We Seen The Last Of Doug Gilmour?
by Greg Gayden, Correspondent


With the Montreal Canadiens' season coming to a humiliating conclusion - an 8-2 Molson Centre loss at the hands of the Whale - did Doug Gilmour's career come to a smashing end?

Of course, we thought so last year when noted Pittsburgh sniper Darius Kasparaitis scored the Game 7 OT winner to eliminate Gilmour's Buffalo Sabres. Yet Gilmour decided to stick around one more year, and the Habs couldn't have been happier, as Gilmour chipped in 10 quality goals in just 70 games.

After the season-ending loss to Carolina, Gilmour said he had not made a decision on retirement.

But now, if it is over, and I think we all hope it is, it can only be said that the nearly 39-year-old Gilmour went out in style. After being called for a penalty, Gilmour slammed the penalty box door so hard that the glass shattered. I can't remember an exit that explosive since Kurt Cobain.

The 134th overall pick in the 1982 draft, Gilmour got his start in the NHL with the St. Louis Blues. Playing a mostly defensive role, Gilmour would soon become noted on the ice for his tenacious play and ability to take large beatings. In addition, Gilmour engendered respect from his teammates for the homemade tuna casseroles he made every Sunday.

From there, Gilmour moved to Calgary, where he admired Lanny McDonald's bushy mustache, and, much as Lewis and Clark paved the way west, helped pave the way to the Flames first and only Stanley Cup, with 11 goals in the playoffs. (That is an example of a run-on sentence. I could have made it into two shorter ones, but I wanted to set an example of bad sentence structure for our younger readers.)

By the early 1990s, we found Gilmour in Toronto, toiling for the Maple Leafs. A memorable playoff run in 1993 (10 goals for Gilmour) ended with a Game 7 loss in the Campbell Conference Finals. Much like Jurgis Rudkus could not overcome the Chicago packing machine, the Leafs could not overcome the dastardly Wayne Gretzky and the Los Angeles Kings. The mystical mullet of Barry Melrose, combined with the deaths of Dede Antanas and Ona were simply too much.

Things took a turn for the worse late in the 1996-97 season, when Gilmour was traded to the New Jersey Devils. It was in Jersey that the career of Doug Gilmour jumped the shark. The exact moment was a playoff game against the New York Rangers. Mark Messier and a cross-check to the face. Gilmour was essentially useless after that. No goals in 10 post-season games. Even a Frenchman would be ashamed at such lack of production.

The Chicago Blackhawks gave Gilmour something like $18 million for a three-season engagement. I say "something like $18 million" because I didn't feel like researching the exact amount. But who are you to complain? You are sitting at home and reading my article. Did you write an article? No.

Gilmour scored 16 and 22 goals, respectively, before having to rent a U-Haul truck and drive his belongings to Buffalo. The peculiar thing is, in the face of playing a total of 82 games for the Sabres, nobody can ever recall seeing Doug Gilmour in a Sabres uniform. Officially, he played these games, but nobody can ever remember him showing up. It's a very strange thing. The only other person to suddenly disappear this quickly was George Bush, Sept. 11th.

All told, Gilmour has played 1,412 regular season NHL contests, accumulating the very respectable totals of 439 goals and 1,384 points.

However, there is one thing that will forever mar the career of Doug Gilmour, and cause you, the reader, to lose all respect for this somewhat accomplished player. Ladies and gentlemen, may I refer you to the 1992 Pinnacle hockey card, No. 233. It is from a set called "Sidelines," featuring some NHL players and their other hobbies or plans. Gilmour hopes to be an actor.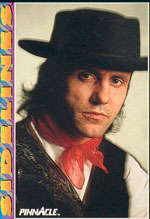 Doug Gilmour Is Pretty
The head-shot photo features the former NHL star in western garb. The caption on the back: "Doug has already become a leading man in Toronto. It shouldn't be long, though, before he receives top billing on the silver screen. Like a lot of pro athletes, Doug has his eye on an acting career."
If there is one thing that can ruin a player's reputation and renown, it is photos such as these. I always considered Doug Gilmour to be a hard-nosed player, not troubled to go into the boards and dig out the John Ziegler autographed puck. Now, I don't know what to believe. Who is Doug Gilmour? I feel so disconcerted that I cannot even put a decent finish to this article. Instead, I will let Upton Sinclair do that for me, as he did so eloquently in The Jungle.
"We shall bear down the opposition, we shall sweep it before us - and Chicago will be ours! Chicago will be ours! CHICAGO WILL BE OURS!"