CONTENTS
Pre-season Results
Free Agents
Schedules
Standings
Statistics
Transactions
Injury Report
Rosters
Player Salaries
Team Directory
Television
Stanley Cup Odds

Free LCS 1997-98
Reader Hockey Pool
A Tribute to Sweden
by Michael Dell, editor-in-chief


Welcome to our tribute to Sweden! Or should I say valkommen!

A lot of people don't know this, but LCS: Guide to Hockey is huge over in Sweden. The Swedes love the LCS. And we love the Swedes. We're like rock stars over there. Zippy can't even walk down the street in Sweden without being mobbed by adoring fans. And Swedes can't walk in our neighborhood without us mobbing them.

Why do we love Sweden so much? It's hard to say really. A true love for Sweden isn't acquired, it's something that's born deep in the marrow of one's bones. It would be easier to ask why the sky is blue or the rose's scent so sweet. We don't look for explanations. We only search for ways to express our admiration for the great Scandinavian country.

The reason for the timing of our tribute, however, can be explained. With the 1998 Winter Olympics just around the corner, we at LCS would like to make a very important announcement. It gives us great pride to throw our support behind Sweden in the upcoming international hockey tournament. Yes, that's right! LCS is predicting Sweden to win the Gold Medal!
Peter Forsberg
by Meredith Martini

Sweden's Olympic roster is a brick house. Leading the way is the great Peter Forsberg. He led the blue and yellow to Gold before, and he's primed and ready to do it again. While Forsberg is undoubtedly the best all-around player in the NHL, not far behind is Swedish teammate Daniel Alfredsson. The Ottawa winger teamed up with Forsberg at the World Cup to put on a ghetto clinic. The Olympics just offers them another stage on which to dominate.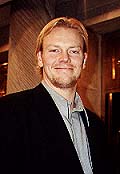 Mats Sundin
by Meredith Martini

See that right there is more than enough to win Gold. But Sweden's got more to offer. Oh yes, they have more. How about Mats Sundin? The Big Swede will humiliate the competition with his graceful skating and effortless stickhandling. You want a pure sniper? Look no further than the rifleman, Mikael Renberg. It's almost not fair. I'd keep mentioning the never-ending stream of talent on offense, but it would just intimidate the other countries too much. It's probably best if we just moved on.

But things are just as strong on defense, where Nicklas Lidstrom, Calle Johansson, and Ulf Samuelsson keep things under control. And there's no weakness in net with Tommy Soderstrom and Tommy Salo manning the pipes. There's been talk that Soderstrom wasn't going to play, but that's just wishful thinking on the competition's part. We have faith that the li'l fella will be there. Because you know what they say about Soderstrom? I believe it's something like, "He's the greatest goaltender ever."

Yes, LCS loves itself some Sweden. And we're sure the boys will skate away with the Gold. But we have a feeling that some of you, our valued readers, don't share our respect. That's the true purpose of this tribute, to help spread the good word of Sweden and open the eyes of the blind among us. For Sweden is great. Sweden is good.

Now go forth in peace, to love and to serve Sweden.