AHL News
by Tricia McMillan, AHL Correspondent


Player of the Week (Jan. 11): Anaheim sent Matt Cullen back to the Cincinnati Mighty Ducks for conditioning after he spent one too many games in the press box. Cullen responded with multi-goal games in three of his first four games back in the AHL and went on to win the POTW. Cullen had seven goals and three assists in four games during the week, including a short-handed goal and a four-point night against Kentucky. Cullen continued his tear into the next week and was named to the PlanetUSA Team before being called back to Anaheim.

Player of the Week (Jan. 18): For the second week in a row, an NHL press box denizen stops by the AHL for work and manages to win an award. This time it's Syracuse's Lonny Bohonos utilizing his time well, picking up 12 points in the Crunch's five games last week. Bohonos had four goals and eight assists, to include three straight games with at least three points and four multiple-point games. Bohonos had a hat trick against the Maple Leafs as well as three-assist nights against St. John's and the Amerks; the Crunch didn't lose any of the five games. He was recalled immediately after his award was announced.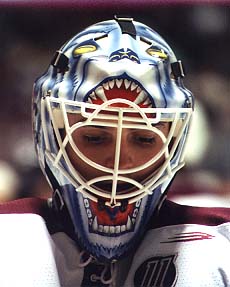 Petr Franek
by Kevin Fischer
Goaltender of the Month (Dec.): Better late than never, but the AHL never formally announced this award to the press or public and I wouldn't have known who won it if I hadn't been at the game where the award was actually handed to the player. Hershey's Petr Franek took the honors for his December heroics, going 10-2-2 for the month and almost singlehandedly hauling the Bears out of the basement. Good (overlooked) job, Pete.
All-Star Preparations: Getting into full swing, the AHL named the offiicals, the PlanetUSA Coach and both teams last week. Refereeing the matchup will be veteran ref Greg Kimmerly, with assistance from linesmen David Butova and Bill Morrissey. None have appeared in an All-Star Game before, although all have plenty of playoff experience. Kimmerly has been officiating in the AHL for four years and has done spot duty in the NHL. Butova is in his 21st year as an AHL linesman and Morrissey's been at it for 19 years.
The Team Canada coach is an automatic selection - the coach of the last Calder Cup winner gets the honors, so Hershey's Bob Hartley gets the job and brings his assistant, Bob McGill. The PlanetUSA job goes to the coach with the best winning percentage as of January 20th. That would be Philadelphia's Bill Barber and his assistant Mike Stothers, whose Phantoms had a winning percentage of .733 on that date. That would also be Hershey vs. Philadelphia. Bring your fight gear.
PlanetUSA: Then the teams were named. PlanetUSA is more interesting than Canada simply by virtue of diversity, with five countries being represented on the originally named team: United States (11), Czech Republic (6), Russia (3), Slovakia (2) and Great Britain (1) (The Beast of New Haven's Kevin Brown was born in England). The Hershey Bears and Kentucky Thoroughblades are represented by three players each, to include two starters each. PlanetUSA also includes six rookies and their captain will be reigning Calder MVP Mike McHugh of Hershey. The starters were picked by fan balloting, the others by the AHL coaches.
PLANETUSA AHL ALL-STAR ROSTER
Goaltenders

Petr Franek*        Hershey Bears           Czech Republic
Brian Boucher (R)   Philadelphia Phantoms   United States
Robb Stauber        Hartford Wolf Pack      United States

Defensemen

Zdeno Chara* (R)    Kentucky Thoroughblades Slovakia
Rory Fitzpatrick*   Worcester IceCats       United States
Rich Brennan        Kentucky Thoroughblades United States
Vlastimil Kroupa    Albany River Rats       Czech Republic
Daniil Markov (R)   St. John's Maple Leafs  Russia
Jan Nemecek         Fredericton Canadiens   Czech Republic
Barry Richter       Providence Bruins       United States

Forwards

Craig Darby*        Philadelphia Phantoms   United States
Josef Marha*        Hershey Bears           Czech Rep.
Alexei Yegorov*     Kentucky Thoroughblades Russia
Bates Battaglia (R) Beast of New Haven      United States
Kevin Brown         Beast of New Haven      Great Britain
Craig Charron       Rochester Americans     United States
Matt Cullen         Cincinnati Mighty Ducks United States
Robert Dome (R)     Syracuse Crunch         Slovakia
Michal Handzus (R)  Worcester IceCats       Czech Rep. 
Mike McHugh (C)     Hershey Bears           United States
Jay Pandolfo        Albany River Rats       United States
Vaclav Varada       Rochester Americans     Czech Rep.
Vladimir Vorobiev   Hartford Wolf Pack      Russia

* - starter
(C) - captain
(R) - Rookie

Team Canada: Largely built from just five teams, Team Canada features three players each from Saint John, Hamilton, Springfield, Albany and Philadelphia. Their captain will be Dane Jackson, provided the Islanders loan him back to Rochester in time and there's no reason why they wouldn't. If the four goaltenders make you wonder - Jean-Sebastien Giguere is currently out with a knee injury and isn't expected back on skates prior to the game, hence he can be named to the team without logistical problems.
CANADA ROSTER
Goaltenders

Norm Maracle*              Adirondack Red Wings
Jean-Sebastien Giguere (R) Saint John Flames
Jean-Francois Labbe        Hamilton Bulldogs
Scott Langkow              Springfield Falcons

Defensemen

Pascal Trepanier*          Hershey Bears
Mark Wotton*               Syracuse Crunch
Eric Charron               Saint John Flames
Jamie Heward               Philadelphia Phantoms
Geordie Kinnear            Albany River Rats
Stewart Malgunas           Portland Pirates
Craig Millar               Hamilton Bulldogs
Brad Tiley                 Springfield Falcons

Forwards

Daniel Briere (R)*         Springfield Falcons
Hnat Domenichelli*         Saint John Flames
Steve Guolla*              Kentucky Thoroughblades
Andrew Brunette            Portland Pirates
Scott Fraser               Hamilton Bulldogs
Dane Jackson (C)           Rochester Americans
Shawn McCosh               Philadelphia Phantoms
Brendan Morrison (R)       Albany River Rats
Randy Robitaille (R)       Providence Bruins
Stacy Roest                Adirondack Red Wings
Marc Savard (R)            Hartford Wolf Pack
Peter White                Philadelphia Phantoms
Peter Zezel                Albany River Rats

* - starter
(C) - captain
(R) - rookie

These rosters are, of course, preliminary. A lot of the players named are presently in the NHL or likely to be recalled at any time, plus the ever-present injury factor. However, the Olympic break seems to make it probable that any player named to the All-Star Game would conveniently be demoted by his NHL team that week.
Caught in a Breakdown: As long as we're talking about players in terms of nationality...Yes folks, another chart. This one tallies up the AHL's 405 players according to their country of origin. Some nit-picky things, as most players born in the former Soviet Union are listed as Russian whether they are or not (some players are from Belarus, Kazakhstan, etc.), but generally very informative.

COUNTRY          No.    (%)    COUNTRY      No.   (%)

Canada           265 (67.2%)   Norway        2 (0.5%)
U.S.A.            55 (14.0%)   Ukraine       2 (0.5%)
Russia            24  (6.1%)   Belgium       1 (0.3%)
Czech Republic    20  (5.1%)   England       1 (0.3%)
Sweden             8  (2.0%)   Poland        1 (0.3%)
Finland            5  (1.2%)   Switzerland   1 (0.3%)
Slovakia           5  (1.2%)   Nigeria       1 (0.3%)
Germany            2  (0.5%)   South Korea   1 (0.3%)

The numbers represent an increase in the number of Canadian players in the league and a significant decline in the number of Americans. Philadelphia and St. John's each include only three nationalities on their teams, while Albany, Cincinnati, Providence, Syracuse and Worcester each have six countries represented.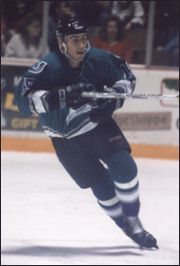 Alexei Yegorov
by Kevin Fischer
Skates Are Sharp Guys: A couple of teams seemed to forget that and it's cost them dearly. St. John's lost Todd Gillingham for a while when a teammate stepped on his hand during a game against Syracuse, severing tendons in Gillingham's fingers. Portland will be without Patrick Boileau until the playoffs after Boileau and Steve Poapst got tangled up during practice and Poapst stepped on Boileau's leg, severing tendons. Remember your Mom said not to play with sharp things? Remember?
They Keep A-Comin': The AHL reached the two million mark on January 14, the earliest the mark has been reached. League attendance is averaging 5,484 per game and on the weekend of Jan. 16-18 it averaged over 7,300. The Phantoms drew over 17,000 for the third straight game and the Worcester IceCats brought in over 23,500 for two games the same weekend. Albany and Syracuse had their biggest games of the year and Cincinnati and Hartford had their best totals since opening night. The Wolfpack followed up by bringing in 14,115 fans on Jan. 24, more than the Whalers drew most nights. The Phantoms continue to lead the league with an average 10,317 fans per game.
Whippersnappers: Five rookies are leading their respective teams in scoring: Hartford's Marc Savard, Springfield's Daniel Briere, Syracuse's Peter Schaefer, Worcester's Michal Handzus and Providence's Randy Robitaille. Albany's Brendan Morrison is second in scoring on his team. Only one rookie led his team in scoring last season: Worcester's Bob LaChance. Interestingly, only Savard and Morrison have seen time with their respective NHL clubs this season.
Rod Langway
by Meredith Martini
Old Dog, New Trick: Providence Bruins assistant coach Rod Langway knew coaching the baby Bruins wasn't going to be easy, but things got pretty weird in Cincinnati Jan. 23 when Providence found itself short of defensemen: Langway activated himself and suited up. Catch was, Langway, who never wore a helmet in his NHL career, had to wear one for this game and needless to say he doesn't own one. Cincinnati coach Moe Mantha loaned him one. Langway had no points and was -1 on a reasonably regular shift. He played again the next night against Kentucky, again with Mantha's helmet, with no numerical record to speak of.
Langway had company too, as Saint John Flames coach Bill Stewart was forced to suit up to give the Flames a minimum number of players for their Jan. 24 game and they still had but 15 skaters. Stewart had his own helmet.
Coming or Going? (Apparently) Staying: it has been reported by some Maritime publications that the Saint John Flames and Harbour Station finally agreed on a five-year lease to keep the team in town, although nothing has been officially announced. The affiliation with Calgary is safe, since the Flames are part-owners of the franchise. Going? The St. John's Maple Leafs, on the other hand, might find themselves moving closer to their parent team - like Maple Leaf Gardens?!? The parent Leafs plan to move into a new building sometime in the next few years and are studying the feasibility of moving their farm team into the old Gardens after they depart. Toronto is a little leery of the idea given the dismal failure of the Newmarket Leafs a few years back.
I Told You So: Last issue I mentioned Syracuse coach Jack McIlhargey thought - and I agreed - there ought to be a canopy over the visitor's gate in New Haven to separate the players from the New Haven rowdies - oh, I mean fans. New Haven didn't take the suggestion. The result was another incident between 'fans' and players, this time involving Fredericton's Terry Ryan and two 'fans'. All three were arrested but no other details have become public. New Haven has added security in the area and stopped selling the seats behind the visitors bench, but more needs to be done. Meanwhile, the publicity-seeking loser who precipitated the first incident with the Crunch's Paul Ferone is suing the player - because, says the whiner, he has a bruise. Poor baby.
Meanwhile the Canadiens were already playing that game against the Beast sans captain Brad Brown, who seems to be having his own problems in New Haven. Brown was suspended for the third time this season just prior to the game for making an obscene gesture to the Wolf Pack bench during a Jan. 14 game. It was the second time this season Brown's been suspended for an obscene gesture, the first time occurring earlier in New Haven when the subject gesture was directed to referee Scott Zelkin. Brown has also been suspended this season for leaving the bench to join an altercation.
Storming Back: The Rochester Amerks won one game out of thirteen in January and hadn't won on the road in six weeks prior to beating Worcester 3-2 Jan. 24, but it was the seventh time they had come from behind in the third period to win, more than any other team in the league. Worcester had a 2-0 lead going into the third but the Amerks tied it up on setups of Sergei Klimentiev, who was playing hurt, and then won in overtime on a play that was also set up by Klimentiev. Oh yeah, the IceCats also outshot Rochester, 45-23, but we know how much good that does anyone.
Small Stuff: Adirondack's Stacey Roest celebrated his nomination to the All-Star team with two goals, including the OT game-winner, against Cincinnati...
The Philadelphia Phantoms were called for a penalty in their Jan. 21 game against Portland because a Phantom left the ice for the locker room a few seconds early. Portland scored on the resulting power play...
Cincinnati's Bob Wren had a goal and an assist against Hershey while playing on a sprained ankle. That performance was good for a callup...
The Phantoms spotted Rochester a 3-1 lead Jan. 11 before scoring six straight goals...
Hnat Dominechelli
by Tricia McMillan
Adirondack's Norm Maracle stopped 24 shots in one period en route to ending Albany's 12-game unbeaten streak...
Best goal differential in the league belongs to Albany, who are +47 as a whole...
Adirondack's Paul Brousseau and Albany's Steve Brule are tied for the league lead with 13 power-play goals each...
The St. John's Maple Leafs received a surprise when third-year player Rob Butz unexpectedly announced his retirement from hockey at age 22. He wants to be a Mountie...
Adirondack's Paul Brousseau picked up a hat trick Jan. 23 against Rochester...
Philadelphia and Hamilton have cumulatively outscored their opponents in all three periods...
As a reward for his First Team World Junior performance for Switzerland, goaltender David Aebischer was allowed an AHL start by the Hershey Bears against Cincinnati and in addition to 25 saves, he also scored a point...
Goaltender Igor Karpenko never played a game above the United Hockey League level, but Saint John desperately needed someone in net and signed him. Karpenko then shutout the River Rats, 3-0, in his first AHL start and came within nine seconds of his second shutout in three days against Fredericton, settling for a 1-1 tie...
The Philadelphia Phantoms are best in division, with 16 wins in their own part of the world...
The Hartford Wolf Pack were glad to get Derek Armstrong back from the Ottawa Senators. The Wolf Pack are 8-0 when Armstrong records a point...
The new least penalized team in the AHL is New Haven, averaging 19.7 penalty minutes per game...
Hershey captain (and PlanetUSA captain) Mike McHugh scored on a penalty shot against the Albany River Rats Jan. 16...
Aaron Downey is making an impression with Providence Bruins - at the halfway point of the season, he's better than halfway to beating Dennis Bonvie's record 36 major penalties set last season...
The Pittsburgh Penguins, who had claimed the Ferraro twins from waivers earlier this season, put Peter Ferraro on waivers and he was claimed back by the Rangers, who successfully cleared him and sent him to Hartford...
Kentucky's Sean Haggerty scored a hat trick against Portland Jan. 17, but naturally it was Steve Guolla who got the game-winner...
Guolla followed up by scoring both Kentucky goals the next night for a tie with Hamilton...
Mike Pomichter was one of Springfield's best players to start the season, but after he broke his cheekbone and his wrist the Falcons released him...
Fredericton is suddenly very King-like, with the additions of Los Angeles prospects Roman Vopat, Donald MacLean and Josh Green and the return of Pavel Rosa. Although a dual affiliation, LA had only a couple players on the team most of the season...
Martin Brochu
by Tricia McMillan
Portland Pirates goaltender Martin Brochu became the franchise's winningest goalie, picking up his 31st victory...
Saint John Flame Denis Gauthier, a former first round draft pick, didn't score a goal until Jan. 10 and then he scored two of them...
The Phantoms and Bears played a home-and-home series Jan. 17-18 in which the first game featured no fights and the second had six fights in the first two periods. Make up your minds already...
St. John's has appeared in 14 overtime games this season, tops in the league. Their 11 ties also lead the league...
Problematic St. John's blueliner Greg Smyth picked up yet another game misconduct and an accompanying three game suspension from the league...
That outshooting stuff remains overrated, as the Falcons outshot Portland 41-22 on Jan. 14 and still lost 4-2...
St. John's got Zdenek Nedved back from loan to the Long Beach Ice Dogs and shipped out Greg Bullock to Grand Rapids for the balance of the season...
For the first time in franchise history, a River Rat scored four goals in a game. Petr Sykora, on a two-game rehab stint, turned the trick against Fredericton Jan. 17 and also tied a franchise record with five points. Rookie John Madden played on the same line and tied a team record with four assists...
The Worcester IceCats outshot the Fredericton Canadiens on Jan. 18 28-6...in one period. Seriously. The 'cats outshot the Habs 49-19 overall in addition to their remarkable second period and went on to win 4-2. Jose Theodore was the man under fire, making some incredible saves but still losing...
The AHL saw four hat tricks in one week: Sykora's foursome, plus efforts from Kentucky's Sean Haggerty, Rochester's Scott Metcalfe, and Syracuse's Lonny Bohonos. So far there have been 30 hat tricks in the league, with two four-goal games...
Extra time is popular, as eight game went into OT in one week. 92 games have gone extra this year and 38 of those resulted in a win. St. John's has gone extra 14 times, New Haven just four. Philadelphia has won six, Providence has lost five...
Albany rookie John Madden leads AHL rookies with a +21 rating...
Hamilton leads the league in road victories and shutouts, and have won more games on the road than at home...
Vaclav Varada's nine game goal scoring streak was snapped upon his return to Rochester, but he scored again the next night...
Cincinnati's Matt Cullen went back to Anaheim with a seven-game goal scoring streak and teammate JF Jomphe has an eight-game assist streak still alive...
The Hershey Bears have scored 59 power-play goals and are on pace to top 100, the only team in the AHL likely to do so...
Steve Guolla
by Kevin Fischer
Kentucky's Steve Guolla has his point streak up to 17 games, longest active in the league and tied with Christian Dube for longest of the season...
The Phantoms' home winning streak is up to nine games...
Peter Ferraro has six points in three games since joining the Hartford Wolf Pack...
The Beast of New Haven killed off 26 consecutive power plays...
When the hapless Providence Bruins defeated Worcester Jan. 17, it was the P-Bruins' first road win since Dec. 6...
The Wolfpack and the Bruins played the better part of a game sans PA system. No one knew how to turn it on...
Worcester's Erich Goldmann is going to the Olympics as a member of the German team...but the Germans may wish to reconsider. Goldmann hasn't had a point in his last 26 games...