head coach: Jacques Lemaire
roster: C - Doug Gilmour, Bobby Holik, Bob Carpenter, Denis Pederson, Petr Sykora, Jason Arnott. LW - Dave Andreychuk, Brian Rolston, Patrik Elias, Jay Pandolfo. RW - Randy McKay, Steve Thomas, Krzysztof Oliwa. D - Scott Stevens, Scott Niedermayer, Lyle Odelein, Kevin Dean, Doug Bodger, Sheldon Souray, Brad Bombardir. G - Martin Brodeur, Mike Dunham.
injuries: 12/23 - C Petr Sykora, sprained left ankle, day-to-day. 1/3 - RW Steve Thomas, bruised ribs, day-to-day.
transactions: 12/29 - Recalled C Peter Zezel from Albany (AHL). 12/30 - Recalled G Peter Sidorkiewicz from Albany (AHL); assigned C Peter Zezel to Albany (AHL). 12/31 - Recalled G Richard Shulmistra From Albany (AHL). 1/3 - Recalled C Brendan Morrison from Albany (AHL). Returned G Peter Sidorkiewicz to Albany (AHL). 1/4 - Traded RW Bill Guerin and LW Valeri Zelepukin to Edmonton for C Jason Arnott and D Bryan Muir. Muir was assigned to Albany (AHL). 1/5 - Recalled C Sergei Brylin and LW Jay Pandolfo from Albany (AHL). 1/6 - Reassigned C Brendan Morrison and G Richard Shulmistra to Albany (AHL); sent D Brad Bombardir to Albany (AHL) for conditioning purposes. 1/8 - Traded Reid Simpson to Chicago for a fourth-round pick in the 1998 Entry Draft and future considerations. 1/9 - Assigned C Sergei Brylin to Albany (AHL) for conditioning purposes. 1/11 - Recalled D Brad Bombardir from Albany (AHL).
standings:

Eastern Conference - Atlantic Division   
Team         GP   W   L   T   PTS   GF   GA   
New Jersey   44  28  14   2    58  132   92  
Philadelphia 44  25  11   8    58  134   97  
Washington   46  21  17   8    50  128  122  
Florida      46  15  21  10    40  117  131   
NY Rangers   45  14  19  12    40  114  123   
NY Islanders 45  15  25   5    35  112  132  
Tampa Bay    44   9  27   8    26   78  135  

game results:

12/18 at St. Louis   T 4-4
12/19 at Detroit     L 5-4
12/23 at Washington  T 1-1    
12/26 Islanders      W 4-3
12/29 at Buffalo     W 3-1
12/30 Chicago        L 6-2
01/01 at Florida     L 2-1 OT
01/03 Toronto        W 4-2
01/05 Dallas         L 4-3 OT
01/07 Pittsburgh     W 3-1
01/09 Tampa Bay      W 4-1
01/10 at Pittsburgh  L 4-1
01/12 at Boston      T 1-1

team news:
by Phil Aromando, New Jersey Correspondent
Although the past few weeks have been marked by inconsistent and some uncharacteristically undisciplined play, the Devils, off to their best start ever, enter the All-Star break in good shape. They are near the top of the Conference and their Division despite playing .500 hockey over the past 13 games.
Wish Granted
Edmonton GM Glen Sather: "I've already had two teams phone me to try to trade for him. I've often asked Lou (Lamoriello) about Guerin. I don't think this would have happened if he hadn't had the contract situation."
After sitting out 21 games and signing mainly to enable selection to the US Olympic team, Bill Guerin was dealt to the Edmonton Oilers along with left wing Valeri Zelepukin for center Jason Arnott and defenseman Bryan Muir.
Guerin asked to be traded during his holdout and didn't retract his demand once he signed. But that didn't prevent him from expressing some shock once the deal went down. The Devils are the only NHL team he has played for and now he's been sent to the farthest reaches of the Western Conference.
Devil players that complain are dealt without fail, but it seemed that Guerin's situation may have played out differently. After all, John MacLean was traded nearly as quick as he made his demand. But Guerin stayed with the team and his relationship with Lemaire even seemed to be on the mend. If anything his holdout humbled him a bit. When he returned he didn't play like someone who had missed training camp or wanted to be traded. He was sharp and his speed was always an asset.
Unfortunately his last game as a Devil (against Toronto) will not be fondly remembered. After missing a wraparound attempt into a momentarily wide open empty net, the fans booed him every single time he touched the puck thereafter. A change of scenery may indeed be good for all.
He's still an offensive threat and the less defensive style of the Oilers may allow him to blossom into the consistent 30-goal scorer that he has always threatened to become. He has yet to score a goal, but since moving to Edmonton, the Oilers are 4-0.
Valeri Zelepukin will be best remembered for torturing Ranger fans by scoring the tying goal in Game 7 of the 1994 Eastern Conference Finals with 7.7 seconds left in regulation. He's a solid role playing winger and was lately used on the top-line checking unit with Bob Carpenter. His scoring totals are nothing to brag about, but he's the type of player that makes Jersey's system so effective.
Do the Devils need another center? Jason Arnott is young and full of potential. He fits right in with his size and toughness. So far he's been used as a right wing on the Gilmour line. While this may turn out to be an inspired move, it also gives the team some flexibility at center if Gilmour does not re-sign with the team and enters the free agent market at the end of the season. Hopefully, Arnott will really comes into his own whatever position he plays.
The Rocket
Teammates have taken to jokingly calling Randy McKay "The Rocket" because of his offensive prowess this season. Although he was relegated to the fourth line when Steve Thomas returned from his injury and went into a bit of a slump after starting out better than he ever had, McKay regained his touch and began to score more consistently than any player on the team. Beginning with the St. Louis game, McKay scored goals in seven straight games. In five straight, he scored the Devils first goal of the game. In two of those games, he scored the only goals.
He was facing free agency at the end of this season and certainly raised his asking price with such exemplary play. But rather than wait, and following the lead of Brodeur and Stevens, he surprised everyone and announced on January 8th that he had signed a four-year contract extension. It is believed to be valued at $7.5 million. McKay: "I was told I'd probably get more money at the end of the year, but they came reasonably close to what I was talking about. I didn't want to go into the playoffs worrying about my health. I didn't want to worry about an injury at the end of the year setting me back. Now I don't have to worry. I can keep playing hard, playing my game."
He is second only to Bobby Holik (18 goals) with 17 goals - matching the highest single-season total of his career (1991-1992). He accomplished that in 80 games; it has taken him only 42 games this season. With Guerin gone and Thomas still in and out of the lineup with injuries, McKay becomes even more important. Now that he can feel free to play hard every night, are 30 goals out of the question?
Good Housekeeping
Martin Brodeur: "It's good to see Lou (Lamoriello) is making the effort to keep this team together and also going out to get a player like Jason Arnott. A few years ago, nobody wanted to come here. Now people realize this is a good place to play hockey."
More than any other season, or off-season for that matter, Lamoriello is making a concerted effort to keep the core of the Devils intact. The activities over the past month have convincingly shown that when the Devils want something, they go after it or get rid of it.
Which makes the Gilmour situation interesting. He's the last unrestricted Devil free agent left to sign. Is it simply a matter of logistics or are the Devils not really interested in keeping him around? Is Lamoriello letting him dangle a bit for taking the team to arbitration last summer?
Gilmour hasn't ruled out signing before the season ends. At the beginning of the season, Gilmour said he'd like a three-year deal; within the past month he said he had reconsidered and only wanted a two-year deal. Now he's saying that this last contract, no matter how long, is important - it will be his last. That alone means one thing: he's going to be looking for a nice bit of compensation. After last summer, Lamoriello may feel that Gilmour may not be worth what a last contract for an NHL great may signify. Since talks have been in "preliminary stages" for a while now, both sides probably have a pretty good idea where they stand. If he remains unsigned for much longer there's a pretty good chance this will be Gilmour's last season as a Devil.
Hopefully the same won't be said of Scott Niedermayer and Bobby Holik. Both become restricted Group II free agents after the season and they have yet to be approached regarding new contracts. But since any team that tries to pry them away will pay a steep price, Lamoriello may feel more confident that he can affordably retain them. After all, he needs something to do in the off-season.
Next Station...Hoboken?
On Friday, December 19th, Dr. John McMullen, owner of the New Jersey Devils, held a press conference outlining plans for a new, privately-financed arena to be built on the waterfront in Hoboken, New Jersey, atop the Hoboken train station. The estimated cost of the new arena is $175 million.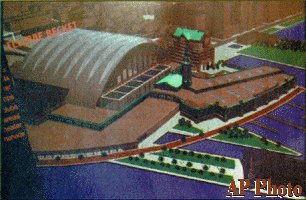 The Proposed New Hoboken Arena
That sounds great but the Devils renegotiated lease (the one that kept them from bolting to Nashville after the Cup win in '95) with the NJ Sports and Exposition Authority runs through 2007 and they have no intention of letting the team leave. "The simple reality is that the New Jersey Devils will be playing a minimum of 35 home games at Continental Airlines Arena in East Rutherford through the 2006-07 season. There are no foreseeable circumstances under which that would change." Needless to say there is some resistance to the idea.
Dr. McMullen: "Obviously they're going to give us permission to leave. Logic would cause them to give us permission." Logically, a brand new state of the art arena would be a better place than the aging and luxury-box deficient Meadowlands. But there is less logic at work than first appears.
For one, Hoboken is an odd choice for an arena. It's a tiny city nestled between the Hudson River and low lying hills that essentially has two roads, not highways, leading traffic into it. The main highway that feeds cars to one of those two roads is also a feeder for the Holland Tunnel and it's always busy. The parking situation in town, at present, borders on the horrific.
The selling point seems to be the fact that the arena would be atop the train station, like Madison Square Garden, and one could take the train from the suburbs and the PATH from Manhattan to get there. The Devils will have moved from an arena only accessible by car (and bus) to one only accessible by train (and bus)! As illogical as it appears, the idea has appeal. A major arena in the heart of a town instead of a marsh would obviously provide more opportunity for a complete night out. And, if you happen to commute into the city, you could just stop in for a game now and again. Walk-up ticket sales would do well. And Hoboken has a thriving college-town atmosphere. It would certainly attract young fans. In an odd way, it may make the team more accessible. But that is only if the logistics of the arena don't bring the town to an utter standstill every night there is a game.
It's hard to say how real the plan is at this point or if it's just a way to garner some leverage for more changes to the existing arena the Devils play in, but for it to have gotten to the stage it has, there are obviously some pretty powerful people involved. By the way, Governor Christie Todd Whitman is a fan of the Devils.
Game Digest
@ St. Louis T 4-4
The Devils become the last NHL team to tie their first game of the season and extend a six-game winning streak to a seven-game unbeaten streak. With Mike Dunham in net so Martin Brodeur could get a rest for the game the following night against Detroit, the Devils come from behind down two in the third and held on for the point.
A nasty, physical game, Bobby Holik sets the tone with a hit on Brett Hull's knee that may or may not have been intentional. Randy McKay and Steve Thomas score the first two Devil goals. Doug Gilmour and Denis Pederson score in the third. Although it was an encouraging come from behind effort, Jacques Lemaire was not pleased: "I can't remember the (last) game we played well against that team."
@ Detroit L 5-4
The wildest game of the year. After two periods of tight defensive hockey, the floodgates open. The teams combine for seven goals in the third. Ex-Devil Doug Brown puts in three for the Red Wings - his first ever career hat trick. The Devils score three in the period all on the power play.
Scott Niedermayer scores twice in the third only to have the Wings score seconds after each of his tallies. Two of Brown's goals give the Wings the lead. The Devils push to tie and almost get one past Chris Osgood with less than 15 seconds left on a flurry of shots by McKay, Nieder and Gilmour but come up short. Every shot the Wings took seemed to find the net in the third. Brodeur said the puck looked small and he gives up five goals for only the first time in nearly a year. An uncharacteristic game of wide open river hockey.
@ Washington T 1-1
Randy McKay's scored the lone Devil goal in the first and it nearly holds up for the win. But Brodeur is beaten short-handed late in the third by Kelly Miller. Dale Hunter makes a nice play to get the puck past Brian Rolston to start the two-on-one that leads to the score.
Rolston gets his own short-handed chance later in the period and Petr Sykora is robbed by Ranford in the OT to seal the tie. "We're happy to get out with a tie", said Brodeur. Without Brodeur the Devils could have lost easily. Lemaire agreed, "He's our MVP". Nearly the entire team took the night off. "We were giving the puck away all night. We were not mentally prepared for the game", said Lemaire. Asked why there was such a lack of focus, he responded, "Santa's coming". It was the Devils first visit to the new MCI Center. They wrap up their second longest road trip of the season 0-1-2. It was the first game of the season that the Devils lost or tied leading entering the third period.
Islanders W 4-3
Another come-from-behind effort for the Devils as they snap a three-game winless streak, the longest of the season. Randy McKay scores the first and last Devil goals. McKay's second of the night comes with less than three minutes remaining in regulation.
The Islanders took a 3-1 early in the second on a beautiful goal off a rush by Bryan Berard, but Denis Pederson and Scott Stevens scored to bring the Devils even. The Isles have not won in their last 11 trips to the Meadowlands (0-10-1).
@ Buffalo W 3-1
A marquee goalie matchup is spoiled as the Devils score two goals on their first three shots. Randy McKay scores the first goal :49 seconds into the game and Bill Guerin adds a power-play goal at 3:23. The Sabres get a power-play goal from Mike Peca midway through the first to get within one, but Steve Thomas' goal two minutes later - which required video review to determine that it had actually gone in and out of the net - puts the game out of reach.
Buffalo only managed 16 shots over the last two periods. The Devils 12. It was a solid performance - Hasek had five shutouts in the month of December alone. The Devils planned on getting to him early and succeeded.
Chicago L 6-2
The worst loss of the season to the dismay of the third straight sellout crowd. Mike Dunham starts in place of flu-ridden Martin Brodeur. Dave Andreychuk scores a power-play goal early in the first, only his sixth of the season, but Chicago scores five unanswered goals, four in the second period. Eric Daze had two goals, including the game-winner, for the Blackhawks. The Devils are sloppy on defense and leave Dunham out to dry.
Dunham was replaced at the start of the third period with long time Albany River Rat and ex-Whaler Peter Sidorkiewicz. It was the first NHL action he has seen in nearly three years. He was recalled from Albany as a result of Brodeur's illness. Denis Pederson scored the other Devil goal late in the third.
@ Florida L 2-1 (OT)
A mirror image loss to the Panthers. The last time these two teams met Ed Jovanovski scored twice - including the game-winner in OT. This time Rob Niedermayer scored both goals for the Panthers. The game marked the NHL debut of Devil goalie Richard Shulmistra. With Brodeur still sick and Dunham hampered by a hand injury suffered in the Chicago game, the Devils felt it would be a good time to give the youngster some NHL experience.
He held his own, and the Devils played conscientiously in front of him but only Randy McKay could get one past John Vanbiesbrouck on a power play. Shulmistra almost held on for the tie but Niedermayer scored during a rare overtime power play. Gilmour was off for holding and the man-advantage allowed the Panthers to create a scramble in front of the net. Niedermayer got the shot off; it hit Shulmistra in the pads and trickled in as he rolled towards the net, unsure of where the puck was. Although he lost, his performance elicited praise from assistant coach Robbie Ftorek, "He made some good saves and kept us in the game".
Toronto W 4-2
Doug Gilmour scores the first goal of the game less than four minutes in and Patrik Elias scores his first in ten games two minutes later to give the Devils a lead they wouldn't relinquish. Martin Brodeur was back in goal although not fully over the flu.
Gilmour's goal was a no-brainer. Guerin passed to Gilmour as he drove to the net; the puck appeared to hit Jeff Brown's stick, then Gilmour's helmet causing it to bounce into the air and into the net behind Felix Potvin who seemed to lose sight of it. (It was Guerin's last point as a Devil). Derek King scored midway through the second to bring the Leafs close but Bob Carpenter and Dave Andreychuk scored :37 seconds apart early in the third to put the game away.
Although the team ended their two-game losing streak, everyone seemed happier that Brodeur was back in goal. "Marty is a great goaltender and he makes life a lot easier for us. He makes the saves and when pucks are dumped in, he goes out to get them. He's always solid," said Dave Andreychuk. The Devils finish the season series with the Leafs 2-0-0. The game was the fourth home sellout in a row.
Dallas L 4-3 OT
There were considerably fewer people at the next home game despite it being the first meeting of the season with NHL point leader Dallas Stars. They missed a great game.
The Devils jumped out to a 2-0 lead on goals by Gilmour and Pederson less than two minutes apart midway through the first.. Dallas brought it within one early in the second on a Jere Lehtinen goal but Bobby Holik restored the two-goal lead late in the period. Dallas scored at 7:16 of the third to again cut the lead to one but as late as the last TV timeout it seemed the Devils would hang on even though they were facing heavy pressure in their zone.
Ken Hitchcock pulled Ed Belfour with less than a minute left and sure enough, the Stars broke through. With :36 seconds left, Joe Nieuwendyk took a Jamie Langenbrunner pass from behind the net and beat Brodeur on his glove side high. It was demoralizing. So much so that :34 seconds into the OT, Lehtinen took a pass from Mike Modano and drilled a shot that beat Brodeur on the opposite side as he was sliding across to stop it. To add insult to injury, the Stars were attempting to change lines as the goal was scored.
Just like that the Devils lost their second overtime game in a row. It wasn't for lack of effort, but the Stars kept pushing and hitting and shooting and had the Devils on their heels most of the game. In fact, they held the Devils to only 13 shots - the lowest output of the season. The Devils simply let up late and the Stars capitalized. Ultimately, they played with more will than the Devils and left them scratching their heads. Lemaire: "When you're facing the best team in the league you've got to be ready." Holik: "This is a tough one to swallow because I thought we'd be ready. It was ugly. We deserved to lose because we did not play well." Had they won they would have talked about how lucky they were to steal one from the best team in the league.
Pittsburgh W 3-1
The Devils bounced back from the Stars defeat and nearly shutout the Penguins. A late third-period goal from Alex Hicks was all the offense Pittsburgh could muster. The Devils got goals from Rolston, McMay, and Stevens, who sealed the deal with an empty- netter.
Tampa Bay W 4-1
The Devils blew the game open early, building a 3-0 lead in the first period behind goals from Rolston, Gilmour, and Pandolfo. The Lightning were dominated in the opening 20 minutes, giving up the three goals and only registering four shots on net. Dino Ciccarelli scored early in the second but Gilmour scored his second of the game on a power play with less than a minute left in the midle frame to put the game squarely out of reach.
The Devils have beaten the Lightning all four times they have met this season and have beaten them in seven straight going back to last season.
@ Pittsburgh L 4-1
Bad penalties led to four goals, as Stu Barnes scored a natural hat trick in the second period. Jason Arnott scored his first goal as a Devil in the third - but it's much too little, too late. All the damage was done in the second.
Arnott had a great chance in the first but was robbed by Peter Skudra. Arnott took a pass from Patrik Elias and basically put the shot on net point-blank. But Skudra dove across the crease and managed to get his glove on it. "Scoring there could have made it a different game. I thought that was the save of the game," said Lemaire.
Penalties taken by Holik, Oliwa and Andreychuk all led to power plays that Pittsburgh were able to capitalize on. Stu Barnes scored two of his goals on the power play, one at even-strength. Robert Lang scored the final goal. Martin Brodeur, looking tired, is pulled in favor of Mike Dunham to start the third period. A rare game where the Devils help beat themselves with wildly undisciplined play.
@ Boston T 1-1
Perhaps the least exciting game of the season. Scoreless going into the third, the Devils penalty-killing woes continued. Sergei Samsonov scored :20 seconds into the period on a nice backhand shot in close, surprising Brodeur and giving the Bruins the lead.
Patrik Elias scored his rookie leading 14th goal at 5:26 of the third to bring the Devils even but the team couldn't get another past Byron Dafoe and they settle for their third tie of the season. Although the game was more a defensive contest, both teams managed over 30 shots on goal.
Krzysztof Oliwa fought Ken Baumgartner just before Elias' goal and was given a game misconduct for fighting with tape on his hand.
All-Star Devils
All-Star Game veterans Martin Brodeur and Scott Stevens will be participating in this Sunday's All-Star game as members of the North American team. They will be joined by Scott Niedermayer, who will be playing in his first. "It's going to be fun. I'll be a bit nervous, but I'm looking forward to it," said Nieder.
Jacques Lemaire is the North American coach.
Bobby Holik was named to the World All-Star team as a representative of the Czech Republic even though he's now an American citizen and cannot play for the Czech Republic at this year's Olympics.
Useful Banter
Former "Crash Line" winger and fan-favorite Mike Peluso announced his retirement from hockey on December 30th. A spinal problem, spinal stenosis, was deemed serious enough a hazard to convince him that the next hit he gives or takes could be the last - potentially crippling him. For someone who plays as physical a game as he, and rather than risk paralysis, he retired and will forever have his name etched on Stanley's Silver Chalice as an integral part of the Devils cup winning team of 1995.
The Devils won the Duracell Power Play award for the month of December. It's the second time they have been so honored this season.
Just in case you missed it - be sure to check out the January issue of "Harper's" magazine. There's an interesting and funny article on the Flin Flon Bombers of the Saskatchewan Junior Hockey League.
Recent Lines
Elias-Gilmour-Arnott
Andreychuk-Holik-McKay
Rolston-Carpenter-Pandolfo
Oliwa-Pederson-Daniels
Defensive Pairings
Stevens-Odelein
Niedermayer-Bombardir
Bodger-Souray