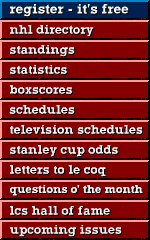 In Association with
@CANADAS.NET




LCS: Christmas Features

Purchase an offical
LCS t-shirt!


Leaderboard updated December 23.

Try our monthly
Trivia contest.

Get Your Daily Dose
of the NHL
Download a compressed text version of LCS to print out and enjoy or mail to friends.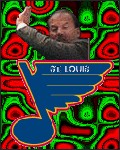 Keenan's Reign Comes to an End
by Jim Iovino, Ace Reporter
A sigh of relief could be heard throughout the Blues' clubhouse and the entire city of St. Louis after the announcement of the firing of Blues head coach Mike Keenan on Thursday, December 19.