LCS Top 100: Review

by Michael Menser Dell, Editor-in-Chief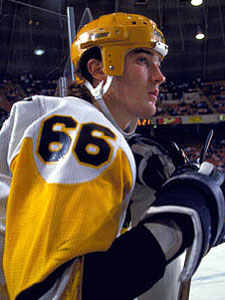 Mario Lemieux

LCS HOCKEY TOP 100
10-1
1. Mario Lemieux
2. Bobby Orr
3. Wayne Gretzky
4. Gordie Howe
5. Maurice Richard
6. Patrick Roy
7. Bobby Hull
8. Doug Harvey
9. Mark Messier
10. Dominik Hasek

20-11
11. Eddie Shore
12. Jean Beliveau
13. Ray Bourque
14. Jaromir Jagr
15. Nicklas Lidstrom
16. Mike Bossy
17. Guy Lafleur
18. Joe Sakic
19. Steve Yzerman
20. Sidney Crosby



Marcel Dionne


30-21
21. Denis Potvin
22. Ken Dryden
23. Peter Forsberg
24. Jacques Plante
25. Larry Robinson
26. Alexander Ovechkin
27. Stan Mikita
28. Phil Esposito
29. Red Kelly
30. Marcel Dionne

40-31
31. Terry Sawchuk
32. Howie Morenz
33. Ted Lindsay
34. Paul Coffey
35. Martin Brodeur
36. Charlie Conacher
37. Bryan Trottier
38. Bobby Clarke
39. Gilbert Perreault
40. Brett Hull

50-41
41. Bill Cook
42. Milt Schmidt
43. Peter Stastny
44. Jari Kurri
45. Glenn Hall
46. Joe Malone
47. Newsy Lalonde
48. Scott Stevens
49. Frank Mahovlich
50. Bernie Geoffrion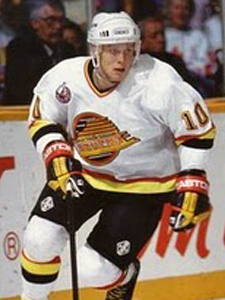 Pavel Bure


60-51
51. Syl Apps
52. Pavel Bure
53. Cam Neely
54. Nels Stewart
55. Sergei Fedorov
56. Cy Denneny
57. Ron Francis
58. Al MacInnis
59. Teemu Selanne
60. Henri Richard

70-61
61. Dickie Moore
62. Chris Chelios
63. Brian Leetch
64. Bill Cowley
65. Pat LaFontaine
66. Brad Park
67. Michel Goulet
68. Borje Salming
69. Busher Jackson
70. Darryl Sittler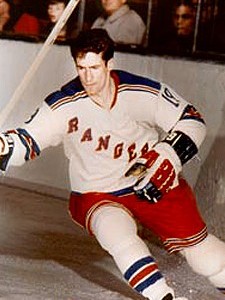 Jean Ratelle


80-71
71. Eric Lindros
72. Pierre Pilote
73. Jean Ratelle
74. Johnny Bucyk
75. Yvan Cournoyer
76. Dale Hawerchuk
77. Tim Horton
78. Grant Fuhr
79. Bill Barber
80. Mark Howe

90-81
81. Turk Broda
82. Dit Clapper
83. Max Bentley
84. Elmer Lach
85. Chris Pronger
86. Babe Dye
87. Tony Esposito
88. Dave Keon
89. Scott Niedermayer
90. Luc Robitaille

100-91
91. Toe Blake
92. Bernie Parent
93. Rod Gilbert
94. Bob Gainey
95. Andy Bathgate
96. Sprague Cleghorn
97. Norm Ullman
98. Denis Savard
99. Mike Gartner
100. Larry Murphy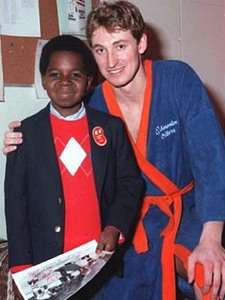 Gary Coleman
CENTERS
1. Mario Lemieux
2. Wayne Gretzky
3. Mark Messier
4. Jean Beliveau
5. Joe Sakic
6. Steve Yzerman
7. Sidney Crosby
8. Peter Forsberg
9. Stan Mikita
10. Phil Esposito
11. Marcel Dionne
12. Howie Morenz
13. Bryan Trottier
14. Bobby Clarke
15. Gilbert Perreault
16. Milt Schmidt
17. Peter Stastny
18. Joe Malone
19. Newsy Lalonde
20. Syl Apps
21. Nels Stewart
22. Sergei Fedorov
23. Ron Francis
24. Henri Richard
25. Bill Cowley
26. Pat LaFontaine
27. Darryl Sittler
28. Eric Lindros
29. Jean Ratelle
30. Dale Hawerchuk
31. Max Bentley
32. Elmer Lach
33. Dave Keon
34. Bob Gainey
35. Norm Ullman
36. Denis Savard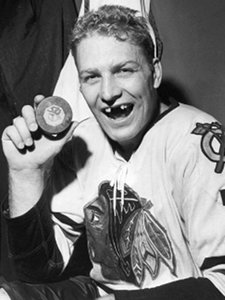 Bobby Hull


LEFT WING
1. Bobby Hull
2. Alexander Ovechkin
3. Ted Lindsay
4. Frank Mahovlich
5. Cy Denneny
6. Dickie Moore
7. Michel Goulet
8. Busher Jackson
9. Johnny Bucyk
10. Bill Barber
11. Luc Robitaille
12. Toe Blake

RIGHT WING
1. Gordie Howe
2. Maurice Richard
3. Jaromir Jagr
4. Mike Bossy
5. Guy Lafleur
6. Charlie Conacher
7. Brett Hull
8. Bill Cook
9. Jar Kurri
10. Bernie Geoffrion
11. Pavel Bure
12. Cam Neely
13. Teemu Selanne
14. Yvan Cournoyer
15. Babe Dye
16. Rod Gilbert
17. Andy Bathgate
18. Mike Gartner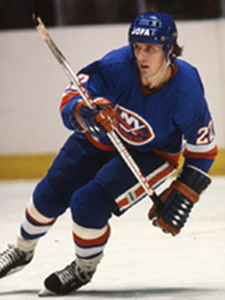 Mike Bossy


DEFENSE
1. Bobby Orr
2. Doug Harvey
3. Eddie Shore
4. Ray Bourque
5. Nicklas Lidstrom
6. Denis Potvin
7. Larry Robinson
8. Red Kelly
9. Paul Coffey
10. Scott Stevens
11. Al MacInnis
12. Chris Chelios
13. Brian Leetch
14. Brad Park
15. Borje Salming
16. Pierre Pilote
17. Tim Horton
18. Mark Howe
19. Dit Clapper
20. Chris Pronger
21. Scott Niedermayer
22. Sprague Cleghorn
23. Larry Murphy


GOALTENDERS
1. Patrick Roy
2. Dominik Hasek
3. Ken Dryden
4. Jacques Plante
5. Terry Sawchuk
6. Martin Brodeur
7. Glenn Hall
8. Grant Fuhr
9. Turk Broda
10. Tony Esposito
11. Bernie Parent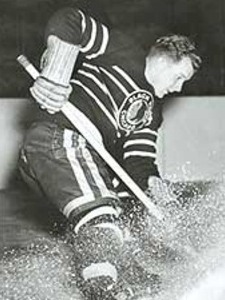 Doug Bentley


HONORABLE MENTIONS
Sid Abel
Centered Howe and Lindsay on Detroit's immortal Production Line.

Doug Bentley
A speedy skater with a natural goal-scoring touch, Doug Bentley teamed with younger brother Max to terrorize Chicago opponents. Doug led the NHL in goals twice (1943, 1944), assists twice (1948, 1949), and points once (1943).

Johnny Bower
Won four Stanley Cups and two Vezinas with the Maple Leafs in the 1960s.

Frank Brimsek
Mr. Zero recorded 40 career shutouts, including 10 as a rookie with the Boston Bruins. Won two Stanley Cups and two Vezinas during his 10-year career.

Frank Boucher
A gifted playmaker, Boucher centered Bill and Bun Cook on New York's Bread Line. Led the league in assists three times (1929, 1930, 1933).

Lorne Chabot
The 1935 Vezina winner, Chabot hoisted the Cup with New York and Toronto.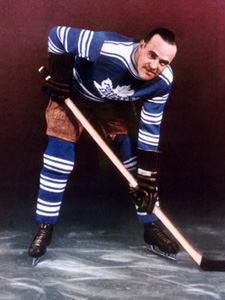 King Clancy


Zdeno Chara
His resume may not stack up against the all-timers, but if I'm drafting a team, I'm taking Chara. I'd pair him with Larry Robinson. Have fun.

King Clancy
A rugged defender with enough skill to score 136 goals during his 16-year career, Clancy has his name on the Cup three times, twice with the Senators and once with the Leafs.

Pavel Datsyuk
Still a couple great seasons away from qualifying, but his game is certainly Top 100 worthy.

Alex Delvecchio
Another one of Gordie Howe's centers, Delvecchio spent 24 years in Detroit, winning three Stanley Cups and three Lady Byng Trophies.

Bill Durnan
Won six Vezinas and two Stanley Cups in seven years with the Habs during the 1940s.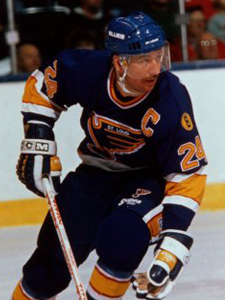 Bernie Federko


Bernie Federko
One of hockey's most underrated stars, Federko piled up four 100-point seasons with the Blues during the 1980s.

George Hainsworth
The top netminder of the 1920s and early 30s, Hainsworth claimed three Vezinas and two Stanley Cups with the Canadiens.

Jarome Iginla
Iggy was the premier power forward of his era and led the league in goals twice (2002, 2004) and points once (2002). And his story isn't done yet.

Aurele Joliat
One of hockey's most exciting left wingers, Joliat won three Cups with Montreal during the 1920s and early 30s, teaming with Howie Morenz to form a dynamic scoring duo.

Ted Kennedy
A five-time Stanley Cup champion, Kennedy led the league in assists in 1951 and earned the Hart Trophy in 1955.

Joe Primeau
Primeau anchored Toronto's Kid Line for wingers Charlie Conacher and Busher Jackson. He led the league in assists three times (1931, 1932, 1934) and won the 1932 Stanley Cup.

Brendan Shanahan
With 656 career goals and three Stanley Cups, Shanny deserves a spot in the Top 100. Hell, he deserves it just for the changes he's helped make to the game since the lockout.

Billy Smith
The backbone of the New York Islander dynasty, Smith won one Vezina (1982) and a Conn Smythe (1983).

Mats Sundin
The Big Swede had 13 30-goal seasons, including three 40-goal campaigns, over 18 years with the Nordiques, Maple Leafs, and Canucks.

Georges Vezina
They named the (sunshining) trophy after him!




[100-91 | 90-81 | 80-71 | 70-61 | 60-51 | 50-41 | 40-31 | 30-21 | 20-11 | 10-1]