What's My Line?

by Michael Menser Dell, Editor-in-Chief


Throughout the grand history of the NHL, there have been many memorable lines.

"Has anyone ever told you, you have a beautiful five-hole?"

"Wanna ride my Zamboni?"

"I can get you in to see Pang."

But just as memorable are many of the great line combinations. Perhaps the first titanic trio was Toronto's "Kid Line" of Harvey "Busher" Jackson, "Gentleman Joe" Primeau, and Charlie "The Big Bomber" Conacher, who led the Maple Leafs to the Stanley Cup in 1931-32.

By the end of 1930s, Boston's "Kraut Line" of Milt Schmidt, Bobby Bauer, and Woody Dumart was terrorizing the NHL, even finishing first, second, and third in the scoring race in 1939-40.

The 1940s saw the rise of Montreal's feared "Punch Line," featuring Maurice Richard, Elmer Lach, and Toe Blake, and the dynamic debut of Detroit's "Production Line" of Gordie Howe, Sid Abel, and Ted Lindsay.

Ever since, NHL teams have scrambled to find similar success, hoping to catch lightning in a bottle with one magical merging of three distinct personalties. But even if a line produces on the ice, it doesn't reach its full potential until it has a catchy nickname to slap on posters and T- shirts. It's all about the merchandising.

Will any of today's lines join the ranks of the "Long Island Lighting Company," the "French Connection," and the "Legion of Doom"? Well, they won't without the proper nickname. Thankfully, LCS is here to help.


ANAHEIM
The O.C. - Andy McDonald, Teemu Selanne, and Chris Kunitz: While there is a regional connection, it's really just a pathetic attempt to get Mischa Barton to show up at home games.

ATLANTA
The Donut Line - Glen Metropolit, Marian Hossa, and Slava Kozlov: Nothing in the middle.

BOSTON
Colonel Klink - Patrice Bergeron, Brad Boyes, and Marco Sturm: They really haven't played together yet this season, but it's only a matter of time. Sturm's presence creates a natural connection to the old Kraut line, and what says Germany more than Colonel Klink? Ho-o-gan!
His hair should be a logo.
BUFFALO
The Apprentices - Chris Drury, Thomas Vanek, and Maxim Afinogenov: Donald Trump loves to cross-promote.
CALGARY
The Candle Line - Daymond Langkow, Jarome Iginla, and Alex Tanguay: After only a few shifts together, they've already been blown out.
CAROLINA
Ahab - Eric Staal, Erik Cole, and Ray Whitney: They killed the Whale.
CHICAGO
Hekawi - Michal Handzus, Martin Havlat, and Mikhail Holmqvist: Not only does it keep the "H" theme rolling, the Hekawi were the Indians on F-Troop. When their ancestors were first settling, they got lost and asked, "Where the heck are we?" That pretty much sums up the feeling in Chicago.
Maltby fresh
COLORADO
The Crazy Uncles - Joe Sakic, Milan Hejduk, and Andrew Brunette: No one ever talks about 'em.
COLUMBUS
The Bolsheviks - Sergei Fedorov, Rick Nash, and Nikolai Zherdev: There's a revolution brewing in Columbus.
DALLAS
The Alamo Line - Mike Modano, Jere Lehtinen, and Jussi Jokinen: Modano and Lehtinen are about the only two who can remember the glory days.
DETROIT
Summer's Eve - Robert Lang, Mikael Samuelsson, and Henrik Zetterberg: They're Maltby fresh.
EDMONTON
Black Gold - Shawn Horcoff, Joffrey Lupul, and Ryan Smyth: Bubbling Crude. Texas Tea. It's all oil.
FLORIDA
Gray Bar Hotel - Joe Nieuwendyk, Todd Bertuzzi, and Rostislav Olesz: These guys came out flying against the Boston Bruins, combining for three goals and six assists. I think the name represents each of them rather nicely. Gray fits Nieuwendyk because he's old. Bertuzzi should be in prison. And Olesz will probably only stay on their left wing for a short period of time, no longer than the traditional hotel stay.
LOS ANGELES
Perfect Strangers - Anze Kopitar, Dustin Brown, and Alexander Frolov: Brown serves as Larry Appleton to his two foreign linemates.
Love is all around
MINNESOTA
WJM - Pavol Demitra, Marian Gaborik, and Branko Radivojevic: Named for the WJM newsroom on "The Mary Tyler Moore Show." Demitra, the wily vet, would be Lou Grant. Radivojevic would be Murray Slaughter because, well, who gives a damn about Murray? And Gaborik is Ted Baxter. He's the show.
MONTREAL
Les Ivres Singes de Cirque - Saku Koivu, Michael Ryder, and Christopher Higgins: The Drunken Circus Monkeys.
NASHVILLE
Billy - Jason Arnott, Steve Sullivan, and J.P. Dumont: I always liked the name Billy.
NEW JERSEY DEVILS
The Milk Carton Line - Scott Gomez, Brian Gionta, and Zach Parise: Elias is missing.
NEW YORK ISLANDERS
The Expansion Line - Alexei Yashin, Viktor Kozlov, and Andy Hilbert: If not for expansion, would these guys even be in the league?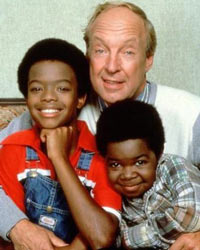 Jagr is looking old
NEW YORK RANGERS
Diff'rent Strokes - Michael Nylander, Jaromir Jagr, and Martin Straka: Without Jagr playing Mr. Drummond to Nylander and Straka, both would be out on the streets. And Nylander is definitely Willis, and Straka is Arnold. What's Czech for, "Watchu talkin' 'bout, Willis?"
OTTAWA
The Yankees - Jason Spezza, Daniel Alfredsson, and Dany Heatley: The line looks good on paper, but it doesn't win in the playoffs.
PHILADELPHIA
The Phillies - Peter Forsberg, Simon Gagne, and Mike Knuble: Much like these guys, the city's baseball team doesn't have goaltenders, either.
PHOENIX
TGINR Line - Steve Reinprecht, Shane Doan, Ladislav Nagy: Thank Goodness It's Not Roenick.
PITTSBURGH
The Beak Line - Sidney Crosby, Colby Armstrong, and Nils Ekman: Just as a real penguin's beak leads the way, so does Sid the Kid's line in Pittsburgh. And have you seen Colby's nose?
SAN JOSE
The Oreo Line - Joe Thornton, Jonathan Cheechoo, and Mark Bell: Soft and creamy in the middle, especially come playoff time.
Set the dials to 1996.
ST. LOUIS
The WABAC Line - Doug Weight, Bill Guerin, and Keith Tkachuk: Named in honor of Sherman and Mr. Peabody's time travel machine, you gotta go way back to remember when these guys were good. I know Martin Rucinsky is actually skating with Weight and Guerin, but even Mr. Peabody can't go back far enough to remember when Rucinsky was good.
TAMPA BAY
EOE Line - Brad Richards, Martin St. Louis, and Dmitry Afanasenkov: Equal Opportunity Employer. They'll try anyone on left wing.
TORONTO
The Mulch Line - Mats Sundin, Kyle Wellwood, and Alexei Ponikarovsky: The Leafs will be chopped up by the end of the year.
VANCOUVER
The Mattress Line - Henrik Sedin, Daniel Sedin, and Markus Naslund: Two twins and a queen.
WASHINGTON
OZ - Dainius Zubrus, Chris Clark, and Alexander Ovechkin: Ovechkin and Zubrus provide the name's inspiration, Clark provides the brains, heart, and courage.