Chara Is All Business in Beantown

by Michael Menser Dell, Editor-in-Chief


The Boston Bruins made the biggest splash over the off-season, both figuratively and literally, signing Zdeno Chara to a five-year, $37.5 million contract. Apparently they had to pay by the pound.

Despite the hefty price tag, there was no shortage of suitors for Chara, a 6'9", 260-pound monster whose unique combination of size, skill, and brutality strikes fear in the hearts of man. But Chara, hardly one to wilt under pressure, found the whole free-agent process rather nerve- racking.

"Well, it was pretty hectic for sure," recalled Chara. "I tried to prepare for that day, shortly after I found out it was not going to work out with Ottawa. You try to prepare as much as you can, but until that day or the first moment the phone call came, the expectations were kind of high, and I was really nervous because you never know. It was my first time in that position.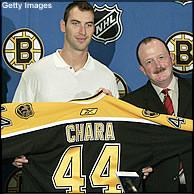 In a risky PR move, Chara poses with
Adolf Hitler
Chara spent the first four years of his NHL career with the New York Islanders before getting traded to Ottawa, along with Bill Muckalt and a first-round pick that turned in to Jason Spezza, for Alexei Yashin. The Isles really should have held out for $24 in beads.
Chara spent the past four seasons with the Sens, developing into one of the game's premier defensemen. Unfortunately, when his contract expired, the Senators, faced with a roster of star players and a tight salary cap, simply couldn't afford to pay the behemoth blueliner his market value, so they had to reluctantly cut ties. Chara could see the writing on the wall.
"I've been in the league for ten years, and you get the feeling that they made their decision and they decided to go the other way, which I was kind of surprised, but at the same time, I understand it's a new NHL, it's new rules, and you have to live with that," explained Chara.
It didn't take long for the phone to ring. For the first time in his career, Chara could decide where he wanted to play. And there were more choices than a French whore house.
"Several teams from which I received the phone calls, there was probably about 16 teams looking for interest, and I think probably seven of them made it through to the final, and from that point it was really, hard."
While intense, the deliberations were hardly lengthy. Free agency was only a few hours old when Chara committed to the Bears. Nothing like playing hard to get.
"The reason I decided with Boston Bruins is after speaking to Dave Lewis it really made sense," said Chara. "We had a lot of things in common, and I really felt that this team has a good core, and I signed the same day, I thought it was a good mix of guys."
With Chara anchoring the defense, and fellow free-agent acquisition Marc Savard joining the likes of Patrice Bergeron, Marco Sturm, Brad Boyes, and Glen Murray up front, the Bruins could be the class of the Eastern Conference. The club has yet to name a captain, but don't be surprised to see Big Z wearing the C.
"It's totally up to the management and obviously the coaches who they're going to decide on," said Chara. "But if that's something that's going to happen, for sure it's something that I'd be really proud of and it would be a huge honor.
"You know, I'd been assistant captain with the Islanders and with Ottawa, so I have the experience to be the leader. But for sure if it's something that will happen, then it would be a huge honor and I'll try to do my best, try to lead on and off the ice and try to be a good example with what I do best, and that would be my work ethic and play the game hard and give all that I have every game."
Leading the Bruins into the playoffs will go a long way to silencing Chara's few critics. Even though LCS Hockey proudly named Chara our top defenseman, the choice drew its share of grief, with many citing Ottawa's repeated failures in the postseason.
"It's something that is kind of sad that with the team and the players we had over the years, we didn't go a little further or all the way," lamented Chara, the defeats still fresh in his mind. "One year we were really, really close, we were in the semis, but then we lost in Game Seven in the last minute or two of the game. And then all the other years were pretty much a big disappointment because we didn't go far. It just didn't happen for some reason, and for sure it's something when I look back, it is sad, but it's something that's in the past, and I'm not trying to think about it too much."
The memories are sure to come back on October 28th when the Senators pay a visit to Beantown. Tell Dr. Phil to stay home. Chara isn't looking for an emotional reunion.
"For me it's going to be business as usual. I'm going to play hard and I'm sure they're going to play hard. We have a game to play, and for sure both sides are going to try to win the game, very much down to business."
And by business, Chara means beating the hell out of everyone who gets within 10 feet of the Bruin net. Good times, good times. Chara crush puny humans.