Ice-olations: Third Jerseys, Stevie Y's Return, Injuries and More...

by Jim Iovino, Ace Reporter


There's been much speculation on what all of the new NHL third jerseys will look like this year.

There are plenty of Web sites out there dedicated to tracking them down. And from all early accounts, most of the third jerseys will be black.

Where's Rainbow Brite when you need her???

At least one team has officially unveiled its alternate sweater. The Carolina Hurricanes will wear (drum roll please...) a black third jersey.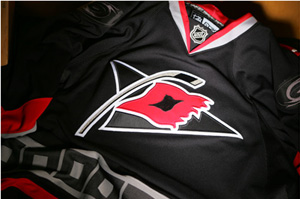 Black is so ... 2008?
The jersey doesn't look bad at all. It's got the hurricane warning flag attached to a hockey stick blowing in the wind. It's got that Triangle thing the town loves so much. And it's got those squares at the bottom of the jersey as an outline.
Click here for a slideshow of the jersey.
The Boston Bruins sort of announced a new jersey about a week ago at a season-ticket holder event. And guess what? The jersey's black! Who would have guessed it?
This one's kinda ugly, so perhaps the soft launch will allow them to go back to the drawing board for some tweaks. Or a whole new design.
Click here to see what they looked like.
And while a version of a possible Ottawa Senators' third uni has been floating around the Web pretty much all off-season, the Ottawa Sun is now showing "an image obtained by Sun Media" that is "believed to be approved by the NHL."
And guess what? It's black! Ugh. Someone contact Mr. Crayola immediately. This is a travesty.
Click here to see the potential Ottawa jersey. It's got the word "SENS" spelled out from lower left to upper right, bucking the trend of other jerseys that go from upper left to lower right.
More jerseys will be unveiled this week, so check back for more updates.
And in the meantime, check out this site, NHLLogos.blogspot.com, which not only breaks some news on the third jerseys, but also is a creative outlet for folks who want to share their own designs. Some aren't too shabby...
Yzerman Making A Comeback?
If you believe the text message sent out Thursday, he is.

Red Wings Mobile News sent out a "breaking news" text to subscribers saying: "Steve Yzerman will come out of retirement and return to the ice in Mid November. Come to the Joe to catch the action!"

Nice thought, but not correct. No one was sure if the company was just testing the system and sent out a message to everyone by mistake or if someone hacked the system.

In related news, Chris Chelios is thinking about purchasing a typewriter.
Backstrom Sprains Ankle
The Washington Capitals are a little touchy when it comes to ankle injuries.

Last year the team watched Alexander Semin struggle to return to form after suffering a high-ankle sprain in the preseason. He didn't look right for most of the season.

So when word came down that Alex Ovechkin's center, Nicklas Backstrom, sprained his ankle Thursday after wiping out at an informal skate at their practice center, there was some concern.

Backstrom lost an edge and crashed skate-first into a goal post, according to The Washington Post.

While the injury apparently isn't as serious as Semin's was a year ago, the Caps aren't going to take any chances. Ankle injuries can be tricky. Just ask Sidney Crosby and Marc-Andre Fleury.
Metropolit's Off-Ice Problems
Did you know Glen Metropolit grew up in foster homes and has a brother who is currently in jail for carjacking and kidnapping and soon could face trial on charges of murdering a fellow inmate?

Neither did I.

You can read all about it in a Philadelphia Inquirer story. Here's the link.

It's a good read. Kind of incredible how he was able to make it to the NHL with such a checkered background.

Metropolit, 34, signed a two-year deal with the Flyers in the off-season.