A Look Back

by Michael Menser Dell, Editor-in-Chief


It's been three days, and I'm still smiling. This is the best championship ever.

Even though I was a 16-year-old lad when Lemieux and the boys won the first Cup, and they were my hockey-playing heroes, I think I actually feel a greater attachment to Kid Crosby's group.

There's just so much negativity now in the internet age, I think it forges a stronger bond with your club. There's more of an us-against-the-world feel.

Beating the Flyers in round one would have been enough to please most Penguin fans. After watching Scott Hartnell go home, everything else was gravy.

Then came Alexander Ovechkin and those filthy Capitals. All the Ovechkin-Crosby hype has made this into a nasty rivalry, right on par with the Flyers. Just think how brutal these games will be if the Caps ever get a blue line. And hey, Caps fans, Sidney's better.

The Conference Finals were a pleasant diversion. No real animosity towards the Canes at all. How can you hate a team with Ron Francis behind the bench? But then that creep Bill Cowher showed his true colors! What a weasel. I always knew that guy was a phony. So at least it was cool sticking it to that jerk.

But nothing is better than beating Marian Hossa and those filthy Detroit Red Wings. Aw, it was glorious. Coming back from 0-2 and 2-3 series deficits to win Game Seven on Joe Louis ice only enhanced the surreal dream. I still have trouble believing it happened. If not for Detroit's constant crying, I'd probably think I imagined the whole thing.

Yes, it was the best of times. So here are a few thoughts on the team that made it possible.


SIDNEY CROSBY
At 21, Kid Crosby has a Hart Trophy, a Lester Pearson, an Art Ross, and now a Stanley Cup. So how come he still catches so much grief? It's ridiculous. This is greatness, people. Appreciate it.

Crosby rose to the occasion in round two, winning his personal rivalry with Alexander Ovechkin and proving hard work and a commitment to team prevails over selfish, individual hockey.

After a solid series against the Canes, Crosby's scoring dried up in the Finals, but his determination never wavered. Yeah, Evgeni Malkin had the better numbers and won the Conn Smythe for his efforts, but none of it would have been possible without Crosby consistently drawing the opposition's best defenders.

Mike Babcock said it all by using Henrik Zetterberg, Nicklas Lidstrom, and Brian Rafalski against Crosby each and every shift. Sure, they kept Crosby in check, but none of them scored worth a damn either. How come Sid doesn't get credit for that?

Max Talbot said it best after Game Seven.

"He is our team," said Talbot. "He is the heart and soul of the Pittsburgh Penguins. And I think everybody knows that. If they don't, well, I'm telling you: He is our leader. What he brings every day to the rink is special. The pressure he had to go through to become that player is really special."

My favorite Sid moment was watching him swipe the puck from Ovechkin and score on a breakaway to seal Game Seven. It still brings a tear to the eye.

EVGENI MALKIN
What a difference a year makes. Had Malkin showed the same effort last season, the Pens could be celebrating their second title. But failure is the means to success. Geno learned from last year's mistakes. Oh, how he learned.

Malkin's problem was he never brought the same effort every night. He'd dominate one game and disappear the next. After another mini-vacation at the start of the Washington series, something clicked. Watching Crosby compete shift after shift finally rubbed off, and Malkin was reborn.

Geno the Scoring Machine-o was a beast over the final two rounds. He terrorized Carolina for six goals and nine points in the first three games of the Wales Conference Finals, and he didn't slow down when he hit Detroit. His scrap with Zetterberg at the end of Game Two was beautiful. Any questions about his intensity or desire to win went out the window. He finished the series with two goals and eight points, positively staggering numbers considering the circumstances. And when the Cup was on the line, Malkin hounded the puck all over the ice and worked the defensive zone like a Selke candidate. He was a deserving MVP.

JORDAN STAAL
Once he toppled his brother in the Conference Finals, Staal's game reached new heights. It was kind of like that episode of "Mr. Belvedere" when Kevin beat George in arm wrestling. The boy became a man.

Staal and his third-line mates wore down those filthy Wings, and his shorthanded goal in Game Four swung the series. He displayed the same fearsome strength and determination to score the opening goal of Game Six. But Staal's defining moment came at the end of the game when he told Dan Bylsma he wanted to be on the ice to protect the 2-1 lead. He got the call again at the end of Game Seven. How many 20-year-olds could be trusted with that sort of responsibility?

I can't wait to see this kid next year now that he's a Stanley Cup champion. Those confidence issues are solid gone.

MAX TALBOT
Superstar treatment, baby. Talbot was the man, and his heroics started long before Game Seven. He didn't have to take a shift against the Wings and still would have been a Pittsburgh folk hero thanks to his fight with Daniel Carcillo in Game Six of the Philly series. Talbot lost the battle, but the Pens won the war. Shhh!

And it gets overlooked, but Talbot's goal in Game One against Carolina was gigantic. The Pens were down 3-2 in the second, and Cam Ward still had an air of invincibility. But Max blew a slap shot past him to tie the game and shatter any illusions about the Carolina keeper.

Having Talbot bag both goals in Game Seven against the Wings was poetic justice. A true Penguin through and through, he was part of the team's home-grown rebuilding process, and he outlasted other more notable names like Ryan Malone, Ryan Whitney, and Colby Armstrong. From the goofy TV commercials to handing out pizzas to the college kids waiting in line, Talbot is a man of the people. He embodies everything this Penguin squad is about. Chicka chicka woo.

BILL GUERIN
There's no mistaking Guerin's veteran leadership, and his seven goals and 15 points ranked him third in scoring. Guerin's importance to the team was evident when Crosby handed him the Cup before anyone else. And he's become a quick fan favorite, throwing out the first pitch for the Bucs and emerging as one of the stars at the victory parade. But none of it's worth $4 million next year. Anything more than $1.5 million a year will be a travesty, so we'll find out how much Guerin loves Pittsburgh. For now, though, let's just enjoy the memories…

CHRIS KUNITZ
Since the Pens won, nobody will remember Kunitz had only one goal in 24 playoff games. While the offense wasn't there, Kunitz did bring the pain, clocking 80 hits, including 32 in the Cup Finals. His 11 hits in Game Three were positively Gary Roberts-esque. Is it worth $3.7 million a year? No, but let's enjoy the memories…

RUSLAN FEDOTENKO
Fedotenko quietly had a tremendous postseason, chipping in seven goals and 14 points while playing Bylsma hockey. He never failed to get the puck deep and work. His cheap wrist shot goal in Game Four of the Washington series officially broke Simeon Varlamov.

TYLER KENNEDY
Even though he'll never live down Paul Steigerwald calling him "Little Tiger," Kennedy can always hang his hat on two Cup Finals goals, including the winner in Game Six. Not bad for a little kid from Who-ville.

MATT COOKE
Jarkko Ruutu who? Cooke led all Penguin forwards with 85 hits, and he combined with Staal and Kennedy to form the best third-line in hockey. Whenever the Pens wandered from the gameplan, the third-line would always settle things down and reestablish the forecheck, and it was usually Cooke making it happen.

CRAIG ADAMS
Ray Shero's sneakiest move at the trade deadline was to pluck Adams off waivers from Chicago. He was the perfect fit on the fourth line and became a fixture on the kill, averaging 2:27 in shorthanded time per game. Not only did Adams score two goals against his former Carolina mates, including the empty-netter to cap the sweep, he was on the ice at the end of Game Seven. How's that for a career turnaround?

PASCAL DUPUIS
Dupuis fought through injury to bring his customary speed and grit to the Detroit series. He also had the quote of the postseason when someone asked him if he had any sympathy for Marian Hossa, who Dupuis was traded to Pittsburgh with last season.

"Not at all," said Dupuis. "Sorry, but not at all."

Dupuis is good people.

PETR SYKORA
Sykora's fall from grace was one of the more shocking aspects of the Penguin Cup run. His 25 regular-season goals trailed only Malkin (35) and Crosby (33), but he had just four in 22 games under Bylsma. For whatever reason, Sykora, who openly disliked Michel Therrien, could never find his scoring touch for his former Duck teammate. He became a healthy scratch in the Washington series, and it looked like his Penguin career would end with a whimper.

But Sykora was able to get back in the lineup for Game Six against Detroit and made a courageous shot block that broke his foot. His time in Pittsburgh is no doubt over, but Pens fans will never forget his triple-OT winner in the '08 Finals or the pride he showed in taking one for the team this year.

MIROSLAV SATAN
Miroslav Satan has his name on the Stanley Cup. Let that sink in a minute. Times they are a-changing.

Satan replaced Sykora in the Washington series and went for four assists and a plus-4 over the final five games. And even after he got yanked for Sykora during the Finals, he stepped right into Game Seven and sacrificed, throwing three hits and blocking a shot. No more Mirosoft jokes allowed.

ERIC GODARD
Never saw the ice in the playoffs. But he'll still get his name on the Cup. Or else.

SERGEI GONCHAR
I'm not exactly the biggest Sergei Gonchar fan; I think his lack of physicality in the defensive zone can hurt as much as his tremendous puck skills can help, and I'm still somewhat bitter about the effort he displayed in his first couples years in the Burgh.

But Gonchar has been a rock the past two seasons and is credited with being a calming influence in the room. He missed two games and still led the Pens in total ice time with 506:55, averaging 23:02 per contest. And he always seems to come through when the team needs a big goal. He had the winner in Game Six against the Flyers and delivered a huge tally in Game Four against the Caps before Ovechkin knee-capped him. He played the rest of the playoffs with a torn MCL. That's leadership. I'm now a proud corporal in Sarge's Army.

BROOKS ORPIK
Who wants candy?

Orpik was a machine, ringing up a team-leading 112 hits and blocking 51 shots. And he set the tone for the Finals by cracking that creep Marian Hossa in Game One. You want to know why Hossa didn't score? You want to know why he kept going wide and skating past the net? Two words: Brooks Orpik.

ROB SCUDERI
Marc-Andre Scuderi saved the day in Game Six, jumping between the pipes and denying the tying goal with three clutch saves. He led the playoffs with 53 blocks, and his steady defense will no doubt mean a hefty raise this summer. Hell, Ovechkin will no doubt kick in a few bucks to see him leave the Wales Conference.

It's incredible to think how far Scuderi's come. In 2005-06, he was a minus-18 in 57 games and was every Pittsburgher's favorite whipping boy along with Josef Melichar. Now Scuderi's a Stanley Cup Champion. He's "The Piece," damn it!

HAL GILL
Too slow. Too clumsy. He'd never survive against the speedy Caps or the ultra-skilled Red Wings. Now what's up?

Due to cap trouble, Gill, who became this generation's Kjell Samuelsson only meaner, has probably played his last game in a Penguin uniform, but his gritty work on the kill won't soon be forgotten.

KRIS LETANG
Letang, still the drink of choice for French astronauts (Is Mark Madden still on the radio?), lived up to his No. 58, playing a physical brand of hockey that would make ol' Jack Lambert proud. While not exactly a destructive hitter, Letang never shies from contact, and his silky skating makes him an indispensable part of the blue line. Sure, he bogged down the power play on occasion with his indecision, but that's expected from a 22-year-old still finding his way in the league. The sky's the limit for this kid. He'll be as good as he wants to be.

And Letang's OT-winner in Game Three of the Washington series was the goal of the playoffs. If not for Letang, the Pens could have fallen behind 0-3 in the series, and none of this would be happening.

On a side note, I seem to recall some idiot saying Bylsma should have scratched Letang before that pivotal contest. Yes, sir, I never get tired being right.

MARK EATON
Eaton impressed in his first two years in Pittsburgh but couldn't stay on the ice, missing 93 games due to injury. When the season started, he still hadn't fully recovered and was a shell of his former self. It wasn't pretty. He looked done. But Eaton rallied as the season went along and reemerged as a dependable blueliner. He even bagged four goals in the playoffs, equaling the total he had in his previous 139 games as a Penguin.

PHILIPPE BOUCHER
A lot of people may have thought Eaton was done, but everyone knew Boucher was done. Swapping Darryl Sydor for him seemed like a steal. At least until we actually got to see Boucher play on a nightly basis. He bore no resemblance to the unheralded performer who used to pair with Sergei Zubov in Dallas, and any hint of his once fearsome point shot had vanished thanks to repeated injuries.

Another stint on the IR with a foot problem seemed to end Boucher's time in the Steel City before it even began. Rumor had it he was going to split and head back to Dallas to rehab until he hit unrestricted free agency. But Boucher never quit. He busted his ass to get healthy and proved he could still contribute, getting into nine playoff contests and even netting the winner in the Game One victory over the Hurricanes.

ALEX GOLIGOSKI
Only two games this postseason, but that number should climb dramatically next year. GoGo is top six material.

MARC-ANDRE FLEURY
I couldn't be happier for Fleury. This kid has taken so much garbage in his career, and none of it deserved. Like I've said on numerous occasions, no No. 1 overall pick in the history of professional sports was more mismanaged than Fleury. Yet he remained the same happy, positive kid throughout, never losing his humble nature or his competitive spirit.

I mean, think what he's had to survive in his brief career. He made a terrible mistake at World Juniors to cost Canada gold. He became Craig Patrick's personal yo-yo all to save a buck. When he was allowed to stay with the big club, he had the pleasure of playing behind the worst defense known to man or chimp. Then when he went to the minors, Michel Therrien often sat him during the playoffs, further injuring his pride. He never even had a full-time goaltending coach. Way to protect your investment.

Last year, Fleury sat down and inadvertently knocked in the Cup-winning goal. So it killed me watching him give up those soft ones early in the Finals, and things looked bleak after he got hooked in Game Five. It was going to be a long summer of people questioning Fleury and saying he could never win the big game.

Well, that nonsense is dead. Fleury buried it. He put dimes on its eyes with his spectacular performances in Games Six and Seven. Fleury didn't just play his part. He won the Cup. Without Fleury, there is no parade. His stop on Dan Cleary at the end of Game Six seemed like the save of the playoffs until he denied Henrik Zetterberg and Nicklas Lidstrom in the waning seconds of Game Seven.

No goaltender has ever made a bigger save than Fleury's stop on Lidstrom. That's the Stanley Cup right there. Can you imagine if that goes in? Egad. The horror. The horror.

But Fleury didn't crack.

"You've got to make your name, you know," said Fleury. "Mine is going on the Cup."

Damn straight. And don't think Fleury just showed up in Games Six and Seven. If not for Flower, the Penguins never even sniff the Finals. He was the man most responsible for beating the Flyers. His remarkable skate save on Jeff Carter in Game Two allowed the Penguins to battle back for an overtime triumph, and he stopped 45 shots to steal Game Four when the Pens had no business winning.

Against the Capitals, Fleury schooled young Simeon Varlamov and stared down Ovechkin in Game Seven, robbing him on a clean breakaway to rip the heart out of those filthy Capitals.

Fleury stole Game One of the Wales Conference Finals and made short work of Cam Ward, who was seen as a Team Canada contender until the Penguins blitzed him for 17 goals in four games. If there's any justice, Fleury will be wearing the Maple Leaf this winter.

Fleury is the modern Grant Fuhr. He makes big saves in key moments to win games. And now the world knows it.

I still miss the yellow pads, though.

Did you notice Fleury was riding with Crosby and the Cup during the parade? That's a subtle but significant pat on the back for the Flower, not to mention a big "(Sunshine) you!" to his critics. And he delivered the best speech of the afternoon, thanking the fans for supporting him despite the soft goals and then apologizing to parents for sometimes saying bad words during the games. Fleury's the tops.

MATHIEU GARON
The best thing about Garon is he isn't Ty Conklin. If you haven't noticed, Conklin has now been on the losing side in the Finals in three of the past four years. Here's hoping Conk signs a long-term deal in Detroit.

DAN BYLSMA
Dan Bylsma? Who canceled? I saw his hiring as waving the white flag. I was misinformed.

Always the calm, cool intellectual, Bylsma seemed unflappable down the stretch, but he didn't face his first true test until the Penguins tanked on home ice in Game Five of the Philly series. When they fell behind 3-0 at the start of Game Six, it looked like Bylsma was about to be exposed. But he never rattled.

Against Washington, Bylsma faced another test when the Pens dropped the first two on the road. That's when he sat Sykora in favor of Satan. And once Gonchar returned from injury, Bylsma decided to roll with seven defensemen. Both moves worked, helping the Pens win Game Seven on the road to advance.

In the Finals, Bylsma pulled the plug on the seven-defensemen idea after Game One and had to once again lead the Pens back from an 0-2 deficit. He put Sykora in at just the right time, even though it really didn't matter once he broke his foot, and he never lost faith in his young netminder. Bylsma turned in a masterful performance in Game Seven, somehow managing to outcoach Mike Babcock despite losing Crosby in the second period.

I have a feeling he'll never have to pay for a pork BBQ burrito the rest of his life.

RAY SHERO
Shero got lucky. He waited far too long to address the team's issues. The need for wingers wasn't exactly a secret, and his loyalty to Therrien, while admirable, was maddening. And did he recognize greatness in Bylsma or was it the only affordable option at the time?

But swapping Whitney for Kunitz and then adding Guerin and Adams on the cheap without subtracting from the active roster was genius. Still, he should have done it sooner. It's not like he could have expected the team to go 18-3-4 down the stretch.

Here's hoping he gets just as lucky next season.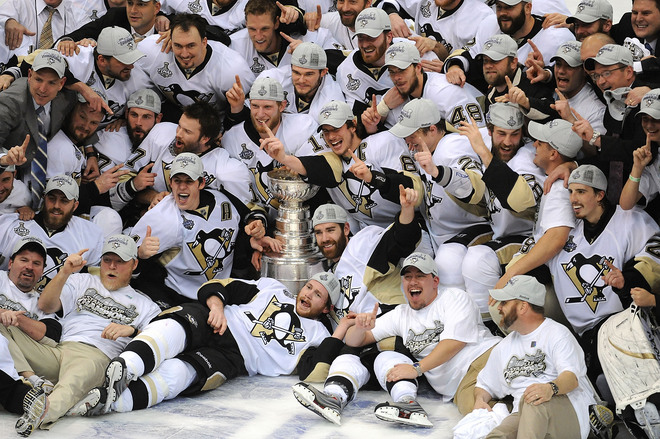 AP Photo