That's a Shame

by Michael Menser Dell, Editor-in-Chief


I love Brad Watson.

Thanks to Mr. Watsonís quick whistle, the filthy Red Wings lost 2-1 last night to the mighty, mighty Ducks and are one step closer to glorious defeat.

And better yet, Watsonís miscue stole the tying goal from that creep Marian Hossa! Life is good.

(Sunshine) Hossa. (Sunshine) Detroit. God bless Watson.

But letís face it; the Wings got jobbed. That should have been a goal. I know it. The Ducks know it. Watson knows it. But what can you do? The guy made a mistake. It happens. Donít cry about it.

Sure, it sucks to have a quick whistle steal a goal, but if youíre a champ, you move on. Donít blame the stripes. That was a 60-minute game. There were plenty of other opportunities to score. Why were the Wings even in a position to need a goal in the final two minutes? That wasnít the refís fault.

If someone takes a goal from me, thatís cool. Iíll score two more. You canít get caught up worrying about the past. Whatís done is done.

That said, cry about it, Detroit! Címon, itís hopeless now. Thereís no way you can come back after that. The refs screwed you. Itís over. Quit.

(Sunshine) Detroit!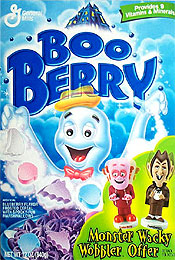 Mmm, Boo Berry



I GOT YOUR BALSILLIE RIGHT HERE
The Phoenix Coyotes are solid gone. The Desert Dogs filed for bankruptcy and are looking to split town. Jim Balsillie, the guy who invented Boo Berry cereal, has regrouped from his failed attempts to buy the Penguins and Predators and has offered $212.5 million to purchase the Coyotes and move them to Southern Ontario.

The best part of the whole story, though, is how the NHL was apparently surprised at the announcement. Hereís the quote from Deputy Commissioner (and heís got the plastic badge to prove it) Bill Daly:

"We have just become aware of today's Bankruptcy Court filing purportedly made on behalf of the Phoenix Coyotes. We are investigating the circumstances surrounding the petition, including the propriety of its filing. We have removed Jerry Moyes from all positions of authority to act for or on behalf of the Club. The League will appear and proceed before the Bankruptcy Court in the best interests of all of the Club's constituencies, including its fans in Arizona and the League's 29 other Member Clubs."

My, thatís rich. Nice to know Gary Bettman and crew are right on top of things. They run a tight ship over there.

But donít celebrate yet, hockey fans. Iím sure Bettman and his merry buffoons will somehow screw this up.

Bettman should be on his hands and knees begging Balsillie to move the Coyotes to Hamilton. Another Canadian team would only strengthen the league. But it would also be admitting that Bettmanís effort to establish hockey in non-traditional markets has been a colossal failure, so donít look for Baby Einstein to admit a mistake.

Earlier today, Bettman was appearing at a Wall Street Journal event with the other major sports commissionersówait, Bettman was invited? Who canceled? Anyway, hereís a link to the Associated Press article, but this quote sums up the situation:

"We generally try to avoid relocating franchises unless you absolutely have to," Bettman said. "We think when a franchise is in trouble, you try and fix the problems. That's what we did in Pittsburgh and Ottawa and Buffalo prior to our work stoppage. That's what we did when the perception was that five out of the six Canadian franchises around the turn of the century were in trouble. We fixed the problems. We don't run out on cities."

Run, Gary! Run!