Send in the Clown

by Michael Menser Dell, Editor-in-Chief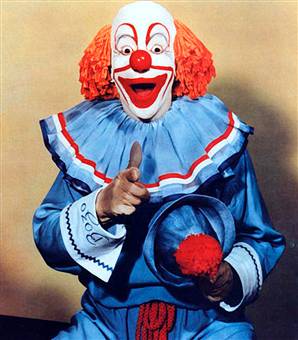 Alexander Ovechkin



Alexander Ovechkin made history last night. Yes, sir, he reached new heights of douchery never before seen in professional hockey.

Oh, and he also scored his 50th goal.

At 7:43 of the first period, Ovechkin took a pass from Nicklas Backstrom at his own blue line and raced up ice. He barreled his way through the Tampa Bay defense and uncorked a wicked wrist shot that overpowered Mike McKenna, giving him the third 50-goal season of his young career.

And like a true professional, Ovechkin skated to the bench and quietly celebrated the accomplishment with his teammates. Aw, thatís not what happened.

Actually, Ovechkin dropped his stick on the ice and pretended to warm his hands over it as if it were on fire. Classy.

Thatís right. Ovechkin bent over and pranced around on his skates, pushing his palms to the imaginary flaming stick, and went up the shaft and back down again to make sure no one missed the hilarity. It couldnít have been gayer with assless chaps and a Clay Aiken soundtrack.

When are people going to wake up and realize Ovechkin is a clown? Sure, heís a great goal-scorer, but heís a back-biting, self-centered jackass. And in case you havenít noticed, heís also really, really lame.

But what do you expect from Ovechkin? Heís a jerk. Has he ever hit anyone without leaving his skates? I mean, you remember what he did to Daniel Briere, right? Ovechkin is a weasel. Thatís understood. But Rick Tocchet and the Tampa Bay Lightning are the ones who should be getting excoriated today.

What in the blue hell were they doing? They let Ovechkin come into their barn and mince around like a show pony, humiliating them and making a mockery of the sport. And what did they do about it? A whole lot of nothing. No fights. Nothing.

ďI think heís a terrific player. He went down a notch in my books after that,Ē said Tocchet. ďItís not something I like. Itís hard for me to accept, to see something like that in our building.Ē

What the (sunshine)?!? Then do something about it, Einstein! Were you waiting for an invitation? Because you got it the moment Ovechkin did his Beyonce routine.

The entire Tampa Bay organization is a disgrace to the league. Every Lightning player should be ashamed of themselves. Where was Vincent Lecavalier? Exactly what does that C on your sweater stand for? Have some pride, man!

Ovechkin needs a beating. Heís been getting away with murder for years. So whoís going to be the guy to feed him his lunch?

We know my boy Mike Richards will do it. Who else? Letís go, boys. Enough is enough.

I want to see Kid Crosby take his pound of flesh. Can you imagine if Crosby and Ovechkin dropped the gloves? That would be dynamite. And for all you Crosby bashers out there, compare Ovechkinís recent antics to Sidís owning of Marc Savard. Thatís why the Penguins are destined for Stanley Cup glory, and the Washington Capitals are destined to be, well, the Washington Capitals.