Richards Right at Home

by Michael Menser Dell, Editor-in-Chief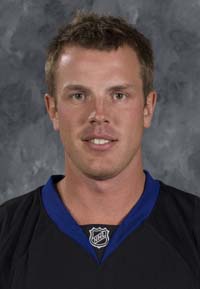 Brad Richards


Maybe he's worth the money after all.

Brad Richards paid immediate dividends for the Dallas Stars last night, recording five assists in a 7-4 drubbing of the Chicago Blackhawks. It was the best debut since Gary Coleman.

Richards logged 19:16 in ice time, striking an immediate chemistry with linemates Niklas Hagman and Antti Miettinen. Hagman certainly enjoyed his new center, ringing up three goals on four shots for his first career hat trick. The gritty Finn winger now has a career-high 25 goals on the season, and Richards should only add to that total.

"I knew his game," said Richards when asked about his explosive chemistry with Hagman.  "It's not like I studied it or anything, but I remember playing against him in Florida. Like I told the media here, he was always one of those in-your-face, pain-in-the-butt type of players. He plays the game the right way. He's going to be hard-nosed. He's not going to give up on pucks, and you saw a couple -- the first goal he scored last night, he just went like a bullet to the net. Those are hard areas sometimes that people don't like to get into, and he's a guy that's going to get into those areas."

Richards was at his best last night, using his vision and playmaking skills to beautifully distribute the puck. He orchestrated the rush like a champ, working more Tic Tac Doughs than Wink Martindale. The five assists matched the franchise record and established new personal career-bests for helpers and points. Not bad for a first impression.

"They're just bugging me that they expect it again tomorrow," laughed Richards.  "That's the funny part. I don't expect myself obviously to do that, and I'm sure I'll get bugged if something doesn't go right again next game. But they've been great. They've welcomed me. 

"It was just fun to get that under my belt, and obviously it was one of those nights that everything kind of went the right way." 

Before expectations get too high, keep in mind it was Chicago. And five assists in February do not a Stanley Cup make. But it was a magnificent end to a turbulent week for Richards, who's still trying to adjust to getting traded from his beloved Tampa Bay Lightning.

"I was pretty much prepared on Sunday night that this was going to happen," said Richards.  "I was 90 percent sure it would be Dallas, but you still have to pack and get some things together. My family happened to be in Florida at the time, so they were a big help. You know, you do what you can. It's the first experience I've had with this. But it's not that far from Tampa, and I can get some stuff FedExed over." 

Even though it was no secret the Bolts were trying to move him, Richards wasn't eager to leave the team that selected him in the third round (64th overall) of the 1998 Draft. Richards was Tampa's Conn Smythe winner in 2004, and the performance was rewarded with a ridiculous five-year, $39-million contract that also included a no-trade clause. Richards thought he'd retire with lightning bolts on his pants. Didn't happen.

"It was a tough few days obviously emotionally," admitted Richards. "Two years ago, I didn't think I'd leave Tampa ever, and now I get a new start here. That's nothing against Dallas; I'm very happy to be here. It's going to be great. It was just the initial -- when it finally hit in, it was a stressful few days. Obviously the best part is just getting out with your teammates and playing hockey again."

Give Richards credit. He could have refused to leave, desperately clinging to his no-trade clause like one of those filthy Maple Leafs. Instead, Richards swallowed his pride and took one for the team. In agreeing to go to Dallas, he allowed his Lightning brethren to climb out from under his unwieldy contract, giving the franchise hope for the future.

"Obviously, it's a unique situation when you have a no-trade," said Richards.  "The relationship that Jay Feaster and I have, and the coach, we grew up together, so he wasn't demanding anything. It was more the ownership, and he wasn't going to -- he told me right from the start that if this is going to happen and we're going to do anything, we're going to do what's best for you. That was comforting. That makes things a lot easier. You definitely do homework and you definitely see what the Lightning can get back and take all that into consideration, and this was a perfect fit." 

In exchange for Richards and goaltender Johan Holmqvist, Tampa Bay received goaltender Mike Smith, veteran center Jeff Halpern, shootout ace Jussi Jokinen, and a 2009 fourth-round pick. Smith is clearly the centerpiece of the trade, finally giving the Bolts the goaltender they've lacked since Nikolai Khabibulin left via free agency.

"You know, as far as Tampa goes, obviously they're in a rebuilding stage, and they'll probably make more changes, who knows, in the summer," said Richards. "And it's unfortunate, because we had such a good thing going there in '04. Things just kind of fell apart and unraveled with the ownership and all that. It's pretty unfair to a lot of good people in that organization who built the organization up the way it should be, and they're standing there watching it get ripped away, and a lot of it they can't help. 

"I only wish them the best, but I don't know exactly what's going to happen down there."

Richards would have liked a chance to turn things around in Tampa, but with ownership uncertainty and increasing budget constraints, it simply wasn't an option. The Lightning had to unload payroll, and Richards' hefty contract made him the obvious choice to go.

"I think if the manager was able to maybe give it a run a little bit more for a couple years with the internal budget being higher, they probably could have kept things afloat a lot better," said Richards.  "And then maybe if it didn't work, do what they're doing now. But instead it was cut early and often, and they were handcuffed in a lot of ways. It's tough. Many times the last two years we played with the exact number of guys, no extras. If a guy got hurt you wouldn't even call someone up some games; you'd play one short. 

"It's tough when the budget is restricting you that much. As I've said before, every team is paying their top guys now, and most of those teams get to go to the cap, and we weren't, so that's why it didn't work out."

That's not Richards' grief now. He's a Star, although he was almost a Blue Jacket. Columbus was one of many teams bidding for the crafty center's services, and even though it seems incredible anyone would willingly accept a trade to Columbus, Richards wasn't opposed to playing in the Buckeye State.

"I just told Jay that if the ownership was going to make him do this, we weren't going to hold them hostage with the no-trade, but we wanted to control our destiny," said Richards.  "Jay from the start, when we knew probably what would happen, told us that Dallas had the best offer, and we said Dallas would probably be the No. 1 pick if something happened. 

"He said Columbus is coming in with an offer, and there was a couple other teams, and that's when I said if something falls through with Dallas, then maybe Columbus because it's a good friendship with Freddie Modin, who I played with for the first six years of my career. And then obviously with some of their personnel, Rick Nash and some of the younger guys, it was, I thought, an opportunity maybe to go and grow with that team.  But it never really came down to that. I think they zeroed in with Dallas pretty early and everything worked out."

Worked out it did. There are no regrets on Richards' part. He's happy to call Dallas home.

"You never know if you're making the right choice, and you never know how it's going to be on the other side," said Richards. "I was always told by older players that the guys are always good guys no matter where you go once you get to know them, and that's the case here. They've welcomed me with open arms. I had three or four calls right off the bat from some of the players on the team. They've been nothing but helpful for me and Johan since we got here, the whole organization has been great."

Richards couldn't be joining the Stars at a better time. The club is 13-2-0 in its last 15 contests, winning a franchise record 12 games in February. They've stretched their lead over Anaheim in the Pacific Division to eight points, and they're now only three points behind Detroit for the top spot in the NHL. They're legit Cup contenders.

"What I've heard is this team is very close, and you could tell that when I got here," said Richards. "The biggest thing we wanted to do is fit in properly, not be a distraction. 

"There's always two sides to a trade; they lose good guys and hopefully they're getting good guys. We want to be that and help the team. It's just good that we didn't mess anything up. We kept thinking of going last night in the same direction, which was before the trade deadline. There's still a lot of work to do, and it's going to be fun to be a part of it." 

Richards knows what it takes to win it all, and he sees similarities between the championship Bolts and his new club.

"It's very similar," said Richards.  "There's a lot of young, talented players, and then you've got a couple older veteran players, great goaltending, and I think it's spread out through the lineup. There's a lot of different areas that the team can beat you. That's always exciting. 

"It's tough to compare exactly the teams and the new style in the NHL and stuff, but there's a lot similarities on how the game is played as a team game, and they're not relying on one guy or two guys. It's the whole lineup."

Dave Tippett is the man responsible for crafting the team into a no-name juggernaut. A gritty, defensive winger in his playing days, Tippett has shaped the Stars in his own image, making them a hard-working, physical squad that doesn't make mistakes.

Surprisingly, even though the Stars are perceived as a defensive dynamo, they're actually only seventh in the NHL in defense, allowing 2.44 goals per game. They're actually ranked fifth in offense, scoring a respectable 2.96 goals per game. I find that hard to believe. There isn't a superstar to be found. This is one case when the whole is far superior to the sum of the parts. Kind of like the Three Stooges.

"I really believe things got a little stale for me in Tampa, unfortunately, for whatever reason," said Richards.  "It's good to get a new mindset and new players and new ideas. That's what's so exciting about a change. Obviously, these guys are doing a lot of things right, so it's good to come in and get those fresh ideas. I know I'm going to learn a lot. I still have a lot to learn, and it's going to happen every day here. It's going to be great."

What a nerd. Learning is for suckers. But you'd be optimistic too if you were making $7.8 million a year to score 20 goals.

By the way, Richards is wearing No. 91 with the Stars since his customary No. 19 is retired in honor of Bill Masterton. Richards always wore 19 in tribute to his hero, Joe Sakic. Oddly enough, I always wore 19 because of Sakic, as well. But if 19 was taken, I wouldn't flip it to 91. That's lame. It looks like you're sweating Sergei Fedorov.

The one season I didn't wear 19, I proudly donned No. 86 in honor of Maxwell Smart. Think about it, Brad. It's the right thing to do.