Fun with Stats

by Michael Menser Dell, Editor-in-Chief


Last week, I wrote an article stating the New York Rangers were poised for a collapse because they're weak five-on-five and don't have a dominate power play to compensate. They're basically winning with smoke and mirrors.

Well, our pal Larry Nagel loves to monkey with stats, so he went back to 1998 to analyze five-on-five scoring and other statistical numbers to determine the best indicators for playoff success. Stanley Cup champs averaged a top 10 finish in five-on-five scoring, but it was nowhere near as important as point total, overall goal differential, or even shots on goal differential.

To be fair, those filthy Red Wings butchered the five-on-five numbers. In 1998, Detroit somehow managed to win the Cup while finishing dead last in five-on-five scoring ratio. Way to go, jerks.

Anyway, here are Larry's findings displayed in a real swank chart. Check out those crazy colors. It's like brushing your teeth with Aquafresh at the circus. And the "D" in the abbreviations is for "Differential." I assumed it was for "Doritos," and it caused endless confusion.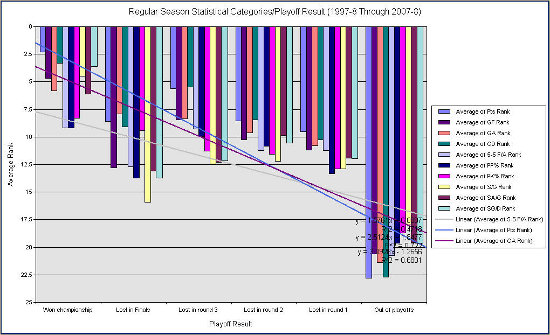 Researched by Larry Nagel